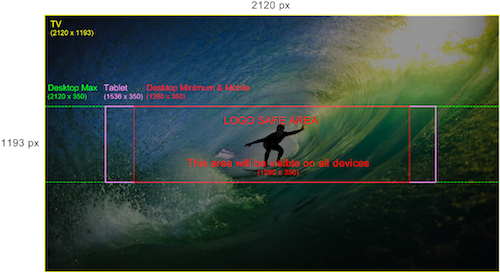 YouTube have announced another overhaul of their channel design, but this time it's going to make a fully brandable channel a reality for every musician. Clearly they are thinking about all users but the difference that this makes for the YouTube channels for the DIY musician is enormous.
Until now, we've been able to build bespoke headers and have off site links on the channels that we build and run for clients on major and indie labels. That's because YouTube gladly make these channels full 'Partner' channels, and with that comes the fully customisable layout and a bunch of other things.
But, the DIY musician has been ignored for a long time and has had to make do with a one dimensional image background with no ability to embed clickable links to other social sites and their own website – that has all had to go in the channel description and the descriptions of the video themselves (which is a good practice to continue). A side note – YouTube now allows monetisation on any channel, but opting in for that doesn't make you a YouTube Partner and, in fact, the additional share of advertising revenue is just one of the extras that full YouTube partners get.
The new layout will bring the same aesthetic look to all levels of channel as Google moves to make the site ever more social and a true sibling to Google+ (hint – if you aren't using Google+ yet, have another look at it as Google clearly aren't going to give up on that any time soon!). And, go and check this post out where you can download YouTube's own guide on how to be successful on YouTube.
YouTube Channel Art
The new universal channel design means that you'll get to upload a new header much like a Facebook Timeline cover, called 'Channel Art'. This has to be very large as different sizes of it will show depending on what device someone is viewing your channel. That's another massive step that YouTube have now taken – YouTube will effectively be a fully responsive website, converting itself to different layouts to suit people viewing on anything from a mobile to a large screen TV and everything in between.
There's two great posts from YouTube themselves that you should go and check out – this one about the new design changes and this one about the specifics of the new Channel Art.
In the header you're able to link to your own website (or a second YouTube channel) and your social media profiles, which is obviously a real bonus for driving traffic to those other online properties.
There's also a whole bunch of extra ways that you'll be able to layout your channel – have a look at the video from iJustine below for more details.
Build YouTube Subscribers
One key change that I hope all DIY musicians will embrace when they get this layout is the ability to have a default video play as the featured video to anyone who lands on your channel and who isn't already a subscriber. YouTube is massively focused on helping users build subscriptions to their channels as that drives the channel's growth and therefore that of YouTube itself.
For a channel owner, and by that we mean artists and bands, building subscribers on YouTube should be one of your primary goals. This new default subscriber video will be a great tool in adding those new fans. A video where you talk direct to your fans and tell them a little about you, your music, and why they should subscribe is going to have a dramatic effect. I'm really impressed that YouTube have made this option available – it's clever, and, realistically, anyone who has already subscribed isn't going to see it as you don't need to feature it.
We're now driving all our artist clients to make as much content as possible for YouTube all the time and pushing them to upload all their music in some form so that fans and potential fans can find all their tracks easily and use YouTube as a place to stream their music – not just somewhere they can watch official music videos. Video statics (where we make a video with a static background and the music playing), lyric videos, live takes, dj mixes – anything that can be uploaded, should be.
Add in this drive for subscribers (all of whom see your videos in their feed as you upload new material) and you'll see rapid fan groth. The new YouTube layout is now finally designed to help you do that and is available to all, including the DIY musician.
This change is in 'beta' right now and only coming to a few channels to begin with. When it comes, make sure your'e ready for it and using YouTube to maximise the music you have available online for your fans to find and listen to and focus on building subscribers.
One final note. There are a lot of features that are being reserved for full Partner channels (things such as live streaming, merch annotations and higher advertising rates) but this is a massive step for ordinary users and for the YouTube channels for DIY musicians in particular.
Comments
comments
Powered by Facebook Comments