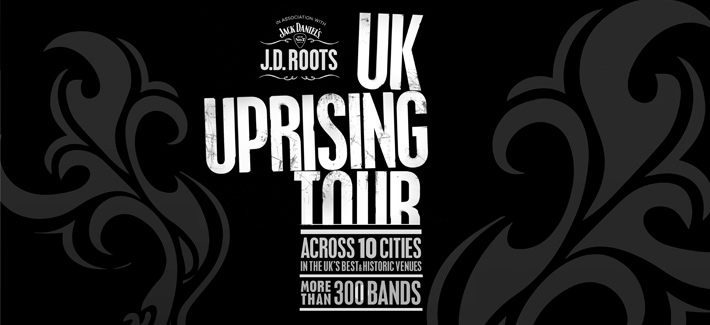 We don't usually post this kind of thing as there always seem to be an endless stream of 'Battle of the Bands' in every corner of the world.
But, we've got behind this one as it's a little different – The UK Uprising Tour.
A chance for a UK act to do a tour of the crucial small venue circuit that pretty much every band that makes it will have done.
And it's all backed by Jack Daniels, Glen Lovell (who runs one such venue – Joiners in Southampton), Blackstar Amplification and Natal Drums.
The sketch is that bands that enter will get a chance to play at a number of venues in different parts of the country and then progress to a regional and national final.
The winning band will get a London support show with a major act, but, more importantly a funded UK tour of the circuit and festival opportunities. Basically – the holy grail for any band about to make the leap!
And that's why we're suggesting you get involved and take your shot. It's real experience of playing at the venues that are stalked by record company scouts and the winning band get a prize that really matters.
To find out all you need to know head to the UK Uprising site here.
The Organisers say
Here's a few words from those involved.
UK Uprising in association with JD Roots is a live music event competition that is taking place across 10 cities in the best & most historic live music establishments from 200cap grassroots level like the Joiners in Southampton up to 1000cap, with the National Final to take place at a prestigious London venue supporting an established artist where you will get to perform in front of some of the top industry folks that we currently work with from National Booking Agents, to Label bosses through to top line Managers and of course in front of the JD Roots team.

The Winning band from the London Final will receive a fully funded tour the following year either headlining or tour support for an established act along with Festival opportunities and features in national music magazines and there will also be best musician prizes such as amps, hand crafted Snare Drums, a year's supply of guitar strings and much more yet to be announced from our sponsors.

More importantly the Uprising team will guide and work with your band throughout the following year showcasing you to our industry contacts, and guiding you through the New Music Philosophy to put you in the best possible position to raise your profile to national level and to put your band in a position whereby we either hand you over to a management company or an agent who can then look after you from there. We will step back and let those guys do the rest. And we can reap all the glory of being the ones who discovered you 😉
Jack Daniels say
And, here's a quote from Glen and from Jack Daniels:
"Jack Daniel's is proud to be involved in Uprising as it offers a platform to the legends of tomorrow as well as further highlighting the importance of small venues across the UK by giving those artists a stage on which to perfect their craft. There's nothing quite like listening to live music and anything we can do to make some noise around that is okay by us" Michael Boaler, Jack Daniel's

Glenn Lovell said: "Following winning the NME's Jack Daniel's best small venue award, I sat down with the JD team to discuss the idea of putting together a national event competition to discover some of the best underground bands the UK has to offer, whilst sticking with the Jack Daniel's ethos of putting on shows in some of the best grassroots venues across the country. Jack  is a staple rock 'n' roll brand and I can't think of a more perfect brand to be associated with for this event. Bring on the first show!"
So, you haven't really got much excuse. Get over to UK Uprising and give it a shot.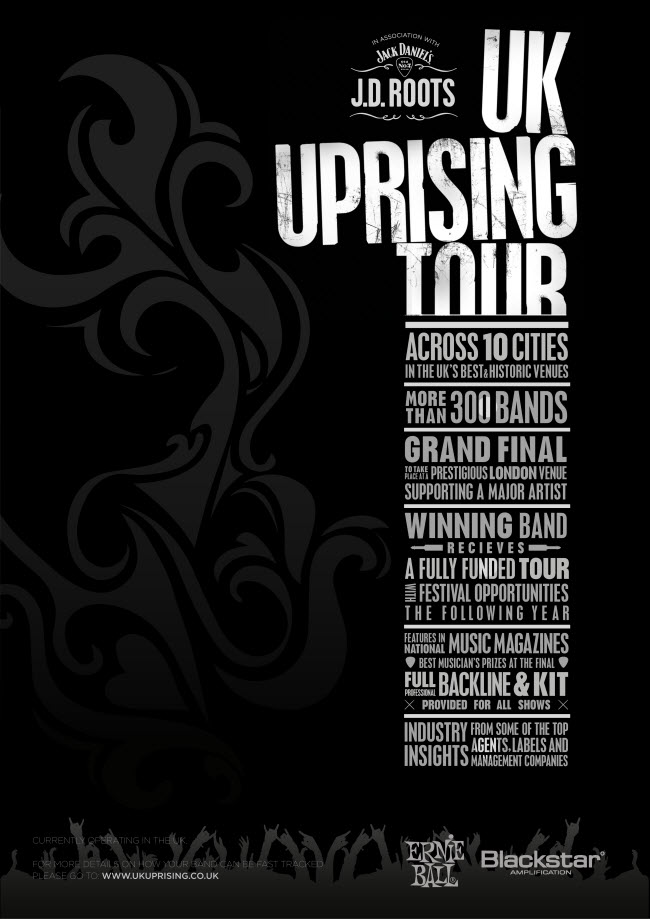 Comments
comments
Powered by Facebook Comments