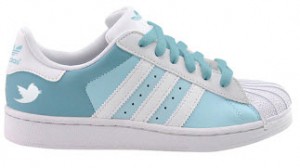 This is part 5 of a 6 part post which are all collated on this page – Twitter for Musicians. You can find part 4 here –Twitter for Musicians – Help, Lists & URL's.

22. Get your followers involved
We've mentioned this in passing in some of the other points, but it deserves its own section!
We all get so caught up in the power of the web and Social Media that sometimes we forget that all this content is being pushed out to real people who we want to have a long term relationship with. That can't be just one way.
What better way can there be to let them know how much they mean to you than to let them get close to the action – at least once in a while?
So, meet them in the real world.
Imogen Heap does this brilliantly – inviting fans to the soundcheck and hanging out with them for ages when she should be soundchecking! But the fans love it and they all tweet about the experience which then furthers Imogen's fan reach even more.
You can obviously do this off the cuff and invite fans to whatever parts of your musician's life or everyday life that you feel comfortable with – soundchecks, rehearsals, band meetings even.
But you can also do it in a more pre-arranged way with what are generally called 'Tweetups'.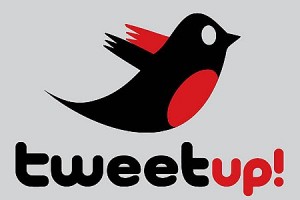 Some Twitter aficionados think a Tweetup is only really appropriate for a group of Twitter users to meet up and talk tweeting and tweet about it! I don't agree and think, in its simplest form, it's an event for a group of people who are connected on Twitter (either as your followers, or by being on a list or some other commonality) to meet up for a specific reason in the real world.
So, if it's more than a casual 'feel free to come by at soundcheck', and you're promoting a Tweetup as something that you build up to over a few days or weeks, it needs to have more weight – the classic 'after-show', a secret gig, a band beach barbecue with acoustic campfire songs….or something like that which is special enough to engage deeply with your fans.
Involvement of your fans can also be using them as crowdsourcing – finding amongst them people to help you out in areas where more hands are needed or where you and your band don't have the skills.
Often this will be in the offline world – a proto 'street team' to man your merch stall and collect emails at gigs for example, but it can also be finding a graphic designer who loves what you do from amongst your followers and having them design a T-shirt, gig posters etc.
Use your follower fans as your army! But, don't take the piss and do make it worth their while with special access and reward.
23. Search Local

I know that we talked about this at the start as well (when saying that you should use searches to look for people to follow) but you should also make it a habit to spend a proportion of your time searching locally – either by using filters in the Twitter Search 'Advanced Search' or by using third party services.
Why concentrate on local? Well it's going to reveal a huge amount about your local scene that you can then use to network offline and it's going to set you and your band up as the authority on all things happening musically in that scene.
Sure, it's going to show you new potential followers who you can add, but these local searches will also reveal conversations that you should be in if you're to be seen to be relevant in your local scene. You'll pick up fans but you'll also establish that vital authority by passing on local information, supporting other local bands, venues, clubs, record stores etc.
Your approach should be two pronged:
look for people generally interested in live music, gigs, going out, and being involved in the nightlife of your area (using those phrases as keywords in a Twitter Search); and
look for people who express an interest in your genre of music by searching for various keywords that you know describe it and any other cultural references that tend to fit (as we referred to before – a Goth will likely show an interest in piercing and Twilight books and movies, for example).
You're looking for these people as potential followers & fans (maybe street-teamers) but also as a source of news and info that you can pass on or act upon.
There are various ways in which you can do this type of local search.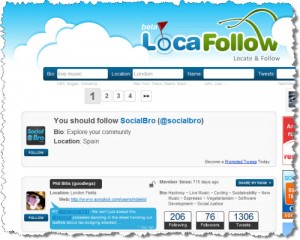 A great place to start is to search the bio's of people locally. Use the service at Loca Follow – and run through using both types of search. This turns up people that have those words in their bio – so someone who says 'live music' in their bio and lives in your town is someone you should be engaging!
Loca Follow works by place name rather than postcode and has its limitations, but it shows you people in order of their authority (followers, number of tweets etc) which means you can easily find the players. I always use this tool to search for venues as well in any city I'm looking for a band to target, by using anything I can think of that they'd use to describe themselves – 'venue', 'live music' (again!) and so on. Very useful when you're targeting towns for setting up shows.
Tweep Search can be used to do the same thing. Just add the location to the search phrase – so for me it would be "live music London" rather than just 'live music'. I like the way that the results are presented in Tweep Search – they can be ordered by follower count, friend count, latest update or alphabetised. Great tool for this purpose.
To search the content of tweets locally, use the 'advanced search' part of Twitter Search – right down to within a mile of a postcode – giving you results of what local people are saying in their tweets in real time
Watch this great short video from Mashable.com for ideas on filtering down to find the interesting stuff in people's tweets that you're after.
Nearby Tweets and TwitterFall are the other two services that you need at hand when searching actual tweet content locally. Twitterfall can be overwhelming but it's fantastic as it'll allow you to add multiple searches to the continuous stream of tweets that it will feed you in a tumbling board – a format that I find very easy to scan. You can then save those searches, tweet, follow, DM and everything else right from within Twitterfall. It's an awesome tool for this kind of local search (or indeed any keyword based searching). Check it out and become addicted!
Nearby Tweets is much more basic but still gives up the goods.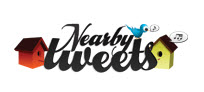 Don't underestimate the power that this gives you to unearth possible fans and things going on in your local scene. At a given moment it will give you things to do there and then or news to pass on. It will, if you do it often over time, reveal the players that you need to know in your area as they will be on Twitter making a noise about their events. Get to know them on and offline.
Searching for something basic like "gig" locally will show you people to follow who go to gigs, new venues to check out and gigs to be at to network, flyer and promote your own shows.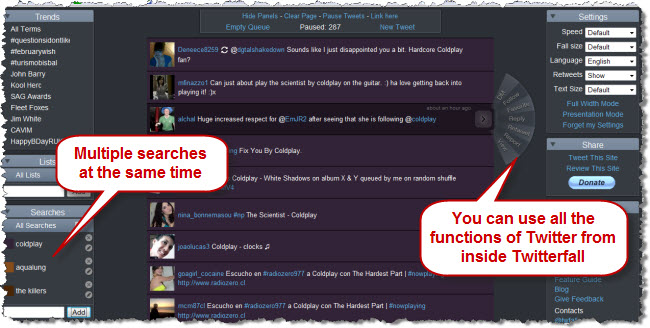 When you have uncovered everyone in your local scene, use that knowledge to promote your music with their help. Offer local store discounts for tickets to your shows and if you're lucky enough to still have a local record store get them behind you by offering them something unique – a Band T-shirt for staff for example, or free CD's for people who buy show tickets at the store.
As you expand out of your local area on tour and on out-of-town shows, you'll find this type of search to be invaluable in building some grass roots promotion ahead of your dates. At least a few months before those gigs, search as we've looked at and reach out to people in those towns you'll be playing and ask for help.
If you go the whole hog, this is the way to build a network of street teamers and local scene players (venues, promoters, musicians, record and music stores and so on) in each town and city that you play in your area – truly helping you expand out from your home town to cover a larger area with the same kind of support.
This is real fanbase building and Twitter can be a key part of that strategy since it gives you instant direct access to people that you otherwise couldn't reach.
24. Talk about music – find superfans
By which I mean more searching!
If you've used the tools we've discussed to add loads of followers who have listed your genre or bands that you're like in their bio (see point 4), you might well still be missing out on the majority of people already pre-disposed to liking your band – because they didn't put that in their bio. Instead they may just tweet about their love of 'cosmic disco' now and again.
How are you going to sweep across Twitter on a regular basis and find these people? You want to, since if you can catch them when they're raving about something that fits with your music and band, then they're much more likely to be receptive.

The truth is, although we told you to seek out people who are following bands and maybe mention them in their bio (by using Follower Wonk), you'll be missing out loads of people when they're listening to or tweeting about stuff that relates to you.
The best way to find these people is to regulalrly immerse yourself in a real time Tweet stream centred around tweets about those bands. One way to do this is to use a service like Tweet Chat. (but Twitterfall is awesome for this too!). And, to do it often – once a day isn't too much.
Tweet Chat isolates all the tweets about a certain subject as filtered by a hashtag. Since music fans (especially uberfans and geeks) tend to be au fait with the hashtag you can get a healthy stream to delve into.
The aim is to regularly contribute to discussions about bands that are similar to you in a genuine music fan way. This should be easy as you should pick bands that you can rave about if they are your influences or contemporaries!
This activity also has the beauty of removing any worries about what to say and do on Twitter – joining into music conversation is very natural for musicians, and by quickly building the number of tweets you have made by these focussed sessions you'll also be seen as a more interesting music-centric Twitterer by all the other users that you come across.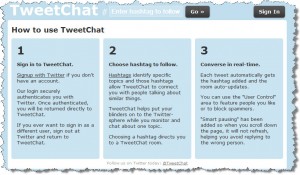 Sign in by letting Tweet Chat link with your Twitter profile and then enter a hashtag of a band that you want to see a discussion for. TweetChat will then show you just the tweets hashtagged with that word – and put you in what it calls a 'room' dedicated to that stream.
You can tweet, @reply and RT direct from within Tweet Chat. You can't follow though, so you'll have to click on the user profile pictures to go to their profile on Twitter to add them – which obviously you should do if they're appearing in this discussion. Check any lists they've compiled too.
Then get stuck into the conversation. Say that you love what they said about 'Band X – you're a fan too', and, leave it at that. When you're using the band Twitter profile, you can't just leap in to these conversations and then ask people to check you out. Many will – simply because you joined in and interacted with them. OK, many won't, but this is a numbers game and you're looking to spread positive comments about you and your band by reference to similar music.
It works – and it's not random friend-adding like old school MySpace as the interaction comes first, then the following.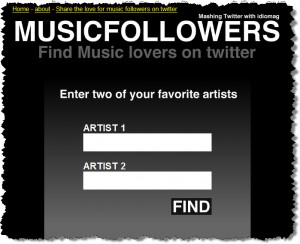 To deepen the niche even further, try using Music Followers. This is a very simple tool that looks at the bios and tweets of Twitter users and see's what bands they like. It then compares them to other users with the same tastes and suggests bands that are similar.
So, if you're like Coldplay and Keane, Music Followers will tell you that many fans of those bands also like Aqualung and The Killers. You can keep refining those matches to get a whole list of bands whose followers might like your sound. I find that the deeper I go with Music Followers the better the results I get – so when I am turning up smaller niche bands that I've never heard of, checking them and then their followers out, I get a much better take-up rate in return. Not surprising, I guess, since their fans must by their very nature be more interested in less well-known bands.
Then go back to Tweet Chat and enter them and spend time engaged in discussions about those bands. (You can, of course, take that information back to point 4 as well and add all those band's followers using Follower Wonk.)
When using Tweet Chat, have conversations – don't just add hundreds of people. These people are laser targeted to your music – so don't waste that opportunity.
If Music Followers suggested a niche band LIKE YOURS and you delve into a thread about that, this is when potential followers are 'hot' – in the marketing speak we used earlier. Engage and get a fan. One by one!
The larger scale adding of similar band's followers is fine and the hope and aim is that your tweeting and musical quality will engage them – as will the fact that you answer @replies from followers and basically do the 'good Twitter'. But the people you pick up using this method should be super hot for you and you shouldn't try to shortcut the process whilst having these kind of music fan conversations.
One extra note on this.
I have seen this kind of interaction done from a user account on Twitter that isn't that of the band or one of the members. Generally from a personal account of someone else involved with the band (a street teamer usually).
Why? And is that ethical?
Well, it's cod psychology to be honest. I'm happy to see a band jump into a conversation and say that they love 'X band' who are similar to them, and not be too pushy about asking people in those conversations to check them out. But, sometimes, it seems that a fan of 'Band X' randomly jumping in an out of conversations about them over a long period of time and pro-actively saying to people – 'Have you checked out Band Y?', in even the shortest exchange, can be effective.
If you try this, the user account that you use must be that of a genuine music lover who also recommends music other than 'Band Y'. People aren't stupid and will go and look at the stream and see what else you've been saying. But I think it's perfectly ethical if done carefully.
Of course, this is a perfect ongoing long-term task to ask of your online street team. Show them this point as their instructions!
As a strategy, don't dismiss this in-depth musical tweeting. It gives you something to engage people about that isn't about you and can be done in very intense bursts several times a week.
If you're good and are in any way like the bands you talk about you'll be amazed at how quickly some people catch on and add you as a friend. People love to be close to the action with a hot new band and they'll think they discovered you!
There's a little extra trick that I forgot to mention right at the start of these posts that definitely increases the number of people who follow you back when you follow them.
If you're going to add followers of a band that you've been tweeting about (like in this point), or are just about to add a bunch of people whose profiles you've found by looking at the band's follower list, try this.
Before you go through and click on all the 'follow' buttons next to the users names, send a tweet to the band who they follow just before you do. So, if I'm about to add a load of people who follow @KanyeWest, I'll send a tweet to @KanyeWest right before I click and add them all.
Then, many of the people I've just added will immediately click on our profile to see who this dude is that has just followed them. They'll see that I have interacted with someone that they follow and this will increase their sense of association to your band. They will be more likely to follow you back – at which point you need to earn their continued interest!
We have tested this and guarantee that it increases the number of people who follow you back. Try it.
25. Give away tunes
We know that you're already giving loads of stuff away on your own site or Facebook or at shows – tracks, demos, acoustic versions, videos, DJ mixes and on and on. But, we want you to do it again!
Why? Because it works!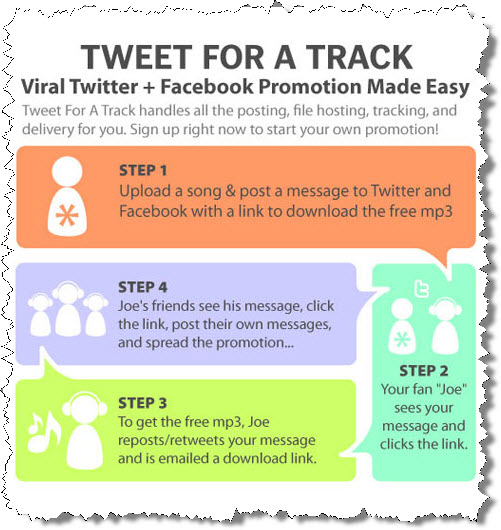 I would much rather that free tracks generally be given away in exchange for an email address from your site, but Tweet for A Track is just so simple and brilliant as an idea that you have to use it now and again.
You upload a song (up to 10MB), post to Twitter with the song linked in the tweet, and then your followers can get a download of the song from a link automatically emailed to them, but only if they retweet (or repost to Facebook) your original tweet. They need not follow you to get the track.
The free track tweet also gets a URL, so that it isn't just about a one time tweet. You can link to that URL from anywhere, obviously meaning it's always on hand for new fans to use, keeping the Twitter promotion rolling along.
Tweet for a Track is beyond simple to use. That's all there is to it.
There are mixed reports about how effective it can be and you may give away a track and get very few new followers into the bargain. We've used it and had good results. I think the secret is in what your overall content strategy is. What do I mean by that? – well, we'll look at it some more in a separate post, but, in essence, you need to have a constant stream of things that you give away from all your various online profiles to keep fans engaged.
Giving away a track occasionally using TFAT is therefore a part of a bigger series of spreading your music, videos, artwork, free tickets etc all over the web.
Used as part of your system, it's well worth a go.
It's worth knowing that all tweets sent from Tweet for a Track automatically have the hashtag '#TFAT'. Take it from us – people watch that tag, and being in that stream will attract new listeners!
There's also a paid option to collect the emails of everyone who tweets the track. Since the Tweeter needs to give their email address in order to get the free download link, TFAT has those addresses. For a fee (normally $49.99 per month, but they always have offers on!) they will supply you with all those email adressess.
If you use 'double opt in e-mail' software (which we recommend) this can be a pain as you'll need to import the emails and then your software system will ask people to re-confirm – not all will! Still, every email of a fan who has engaged with your music is worth its weight in gold.
If you do go for the premium service with email addresses collected, our best advice is that you get those addresses uploaded into your email software asap and you follow up with a great message and perhaps a further freebie to get the new fan on side.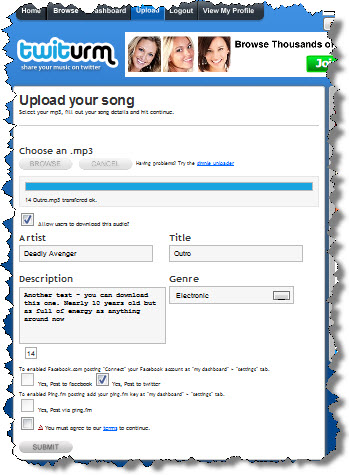 Twiturm is another way to share your music which you can set up to stream only or allow downloads – there is no provision for collecting the emails of the people you reach though. I'd not used it before writing this but will suggest that my clients do since it allows you to create another way for your music to spread virally.
The set up is the standard that we've looked at many times in these Twitter posts. You allow access to your Twitter account and it creates a Twiturm account which takes your Twitter background image and creates a URL (using your Twitter username) where all your uploaded tracks will be hosted. So, in our case, the page is at http://twiturm.com/profile/MakeItInMusic.
All the tracks that you've uploaded can be stream or download, so you can create a URL with as many tracks as you like where Twitter users can click to share on Twitter or Facebook. They can also review the tracks and favourite them
There's another way to trade a track for an email though. This is free to use code from Cash Music. It requires some coding knowledge – hence why I haven't used it yet! If you are a bit techy, it's worth a look. You can learn more here and the how to is here.
Apparently this service will have a WordPress plug-in in the early part of this year to make it easier to use for us non-geeks!
The most recent addition to this method of sharing music on Twitter and, as an option, trading a track for a tweet has come from Bln.kr.
Watch the video below for all the options that this newcomer has to offer – looks like it's going to be a winner with stuff like specific feedback to music shared, automatic video creation and posting to YouTube and one-click sharing to all your social media profiles.
It's a great contender for tweeting for a track to spread your music, but also offers a whole load more. I'll definitely be using it.
What about giving away music that's not yours?
Well, you can't give away downloads of stuff you don't own (you wouldn't catch us suggesting that you give away DJ sets or similar on your site or Soundcloud as that's technically illegal – actually, you would!) but two services that you should have a working knowledge of are twt.fm and blip.fm.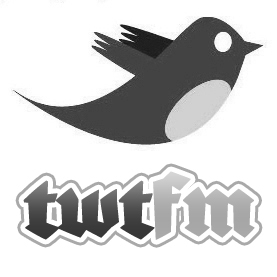 The first allows you to log-in using the Twitter API, find tracks and tweet links to them directly from twt.fm. You just search and twt.fm finds a link to a track that someone is hosting somewhere and makes a player – all on the fly. It doesn't have  every track ever made (by some margin) but it has a lot! Simple as that. It is buggy now and again, so check the link before tweeting it. But, what a great way to quickly let your followers hear what you're listening to.
Which is what Blip.fm does too, but in a different way!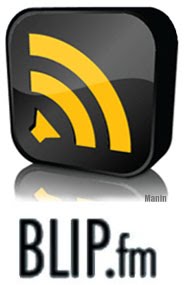 Blip.fm is a Social Network all of it's own with massive functionality. What it does that interests us in this regard is that you become a DJ selecting tunes and once linked to Twitter and Facebook these tunes will be 'blipped' into your Twitter feed with links for people to hear them.
Both Blip.fm and twt.fm therefore give you a way to communicate with your fans on a purely musical level, allowing you to find music that influenced you, new bands that you like or even guilty pleasures to point to your fans. As we pointed out before, this places you and your music into a frame of reference for your followers.
And, as we said before, tweeting music and talking about music adds depth to your stream and means that you don't have to worry about what to Tweet – just tell people what you're listening to!
Lastly, let's not forget that you can use Twitter to give away anything. Free tickets, guest list spaces, merchandise or anything that you can think of can be informally given away by asking your fans to retweet a message and rewarding the first 5 or 10 to do so. This is very effective on show days.
This is part 5 of a 6 part post which are all collated on this page – Twitter for Musicians. If you wish to link to the post, you might decide to link to that page instead.
You can find the 6th and final part here – Twitter for Musicians – TweetDeck, Hootsuite & TweetAdder.

Comments
comments
Powered by Facebook Comments