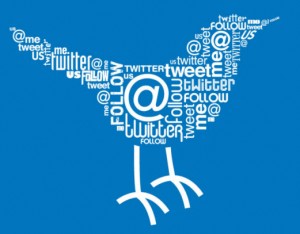 This is part 4 of a 6 part post which are all collated on this page – Twitter for Musicians. You can find part 3 here – Twitter  for Musicians – Facebook, Pictures & Video.
16. Ask for help and information
You can use Twitter to source facts and local info and to find out what's going on.
Twitter is a conversation, so it's two way. When you have a decent following there's no end to how you can use that to build even more interaction.
If you've got any kind of question that you really need help with, tweet it to your followers. Don't mug them off by asking questions that you transparently don't need an answer to – things that they know you'd already know – but when it's genuine, reach out to them and get help.
Things you can ask for help on could include:
where to stop and eat when you're on tour
where to get the van fixed if you break down
how to solve some set-up issue (take a picture if that helps show the issue)
who to use to style you for a photoshoot
And, of course, you can ask this of your fans but also of the wider Twitter community by using location or keyword hashtags. People monitor relevant location hashtags in particular.
As for asking what's going on, Twitter allows you to create real world interaction opportunities aplenty to meet your fans and develop a stronger bond. If you're going out to another band's gig, remind your followers and meet up. Hopefully you'll have previously tweeted that you're going so as to help promote the other band's show anyway but remind followers on the day.
As an aspiring musician you need to be fully involved in your local music scene, so networking in the real world is vitally important. If you've networked with players in your scene on Twitter, find out where they're going to be (at gigs, clubs and other music related events) by asking people what they're up to on Twitter, and show up. But, don't be a stalker, and don't bother people. Ask about them rather than pitching you, and you'll easily make real connections.
This level of interaction is very useful and often leads to not only really helpful answers but also a whole new raft of opportunities as well.

A useful tool when looking for help is Tweefind which hopes to filter out search results based on the number of followers that someone has. So if you're looking to send someone a direct question in a tweet, this is a good way to find them.
Of course, you can also ask your followers for direct help at the relevant time. They can be marshalled to vote for you in a Battle of the Bands or you can ask them to request your music on local / national radio stations when you have a single coming out. This can very quickly turn into a street team that you can call on both online and offline.
Don't do it all the time and for the star who helps the most, give them a reward – some merchandise or special treatment at a gig.
17. Help others
Fix a problem that they've asked about. The other side of the coin.
Just keep your eye out for people asking questions that you can help with. You should obviously look out for followers asking you direct questions but you can also watch trending and follow a few hashtags that cover topics that your knowledgeable about. That allows you to jump in and help when you see someone looking for help who isn't necessarily already a follower.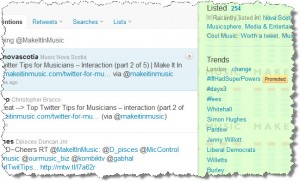 You can do this on your Twitter profile homepage – where you can set it to your nearest location so that you can target your help to locals (obviously good if you look out for people using hashtags that relate to music and you can jump in advise them what gig to go to, for example). For more on this read Twitter's support page on Trending.
You can also watch trends and look for help opportunities using your client such as TweetDeck, or my personal favourite – Twitterfall, which has all sorts of filters including postcode location.
This needn't just be about your planet sized knowledge of music, your genre of music, the local music scene or the latest tricks you are using on Logic Audio. That's all great and helps followers see your music in context and your skills as an artist. But, by revealing that you're also the font of all knowledge on marine tropical fish as well as yeast-free baking your followers will get to know you more – and not just those that you're helping out, but all your followers watching your stream.
And, as for those that you reach out and help – guess what? – they'll be really grateful and may become a follower, a fan or even an evangelist for your band.
18. Get feedback
Not just help.
There are moments for all musicians where what you're after isn't help but honest feedback about what you're thinking, doing, making, should do or make!
Twitter is great for this. It's instant.
You need to balance how you want your fans to perceive you against the wish to get their direct feedback as it's true to say that some fans want there to be an element of distance and idolisation in their relationship with you.
If you feel that is the case for your band, then restrict your search for feedback to either/or queries – e.g., 'Which track of these two should be our single?'
If you're comfortable with your followers seeing all your human frailty – and in the modern connected world I think this is the better option – then ask them anything – both about the process of creating your music and the way your life fits around it.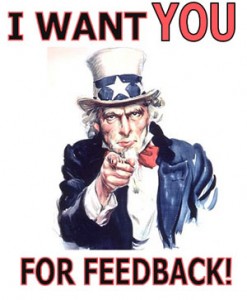 I've seen people ask for rhymes to finish off a song, for verdicts on a final mix and any number of requests for a view on the current state of a project. Kanye West legendarily posted 'Love Lockdown' on his blog (before he tweeted like a maniac – but the principle is the same!) and got negative feedback about the drums and his heavy use of auto-tune. He re-recorded the drums and the vocals but left the auto-tune dialled up to 11! The exchange with his fans was real and heartfelt.
You can use this to take requests. UK artist Little Boots asked her followers every week what song they'd like her to cover just acoustically on her piano – which she'd then video and post on YouTube (you, of course, know that you could use Qik or Ustream for this, being as you are even more modern than her).
Fans can also pick setlists, suggest places for you to play, choose merchandise items (thereby pre-qualifying themselves for a purchase!) – the list should be almost endless.
As well as feedback, use Twitter to get collaborators. With modern studio technology it is so easy to get a part recorded in one part of the world to an mp3 backing track, sent to you and plugged into your master. Search out people that play weird and wonderful instruments and get them on your record. Or how about a Balinese nose flute version of a fan favourite?
Since you've added and are followed back by lots of bands in your local scene and globally in your genre (we told you to do that, remember), reach out to them and collaborate – cover each others songs, do a split 7" release, have a mini-festival and use Twitter to spread the word.
Same thing applies to remixes of your tracks. Reach out and see what your followers have to say. Or how they can be involved.
Asking for feedback will make your fans feel much more part of the process of your creativity and that can only strengthen the bond.
Imogen Heap (this is not her last appearance in these tips!) used her fans to give her both help and feedback when she asked them to re-write her bio using just tweets – so they had to send a tweet and then she compiled those into her new bio – help, feedback, interaction and involvement all in one!
19. Let people find you
As we said at the beginning of these posts, you need to have your Twitter name be obvious – hopefully it's just your artist name – so that people can find you easily.
If you're building an offline following or having success online with blog reviews and mentions on Hype Machine, you'll be surprised how many people will come online and seek you out.
But also have your Twitter address everywhere so that fans can join you or just come and see your tweets from as many places as possible. This is dead obvious, but you need to do it.
That means have a follow button on your website, on your other profiles on MySpace, Facebook and YouTube (just an html link on your YouTube channel – unless you're a YouTube partner!), put the address on all your physical releases (even if that's CD's you give away at gigs) and place a link in your emails.
I'd generally recommend sticking with obvious and simple Social Media follow buttons, at least down to colour and shape. People know the icons and recognise what they're for and you don't want to over complicate it.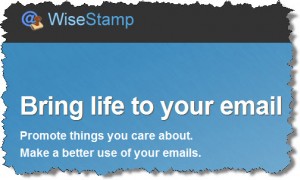 For a clickable link in your emails, which all members of a band should do in their personal email account, there is a cool tool called WiseStamp which, so long as you're using Firefox as your browser (i.e and Safari are coming!), allows you to add a Twitter icon linked to your profile and a latest tweet to your Gmail or YahooMail emails. It does lots more too – see their tour here.
It's a great way to encourage people to follow you and get more interaction from email.
Anywhere else that you can think of makes sense if it fits your style – on a business card (OK, not a business card, per se, but a card that has your act's contact details on!), on the side of the van, on a T-shirt., and make sure that it's everywhere when you gig – on the merch stall, announced by your singer at some point in your performance and on some kind of card / flyer given away at those shows.
Use your imagination!
20. Use lists
Using Twitter's list feature allows you to break up your followers in to manageable groups by subdividing by area, genre, business, fan, whatever you might like. But the 'list' isn't just a list of profiles, it's their streams –  clearly this makes it easier for you to navigate your way around the tweets that are coming into your stream.
Oh, and you don't have to be following someone to add them to a list, although you normally would be. And, you can add yourself to your own lists too.
As a band you might want to break it up into sections such as other bands (successful/ national/global/local), promoters & venues, music advice (for people like us!) and so on. That way you'll find it easier to scan what is happening and make sure that you don't miss anything that might be an opportunity for you or something that you might want to Retweet.
But, there are other things that lists are great for too.
Lists themselves can be followed, so you can use this functionality to spread your marketing and your pre-eminence in your scene that little bit further.
You can create a list of all the members of your band's individual profiles so that fans can follow that list as well as following the official band Twitter stream. If you engage in a bit of banter between band members online, then this list stream could itself be very engaging for your fans. I love this use!
To show your place in your local scene or musical niche you can create lists of bands that you fit in with. For, example, local kids who are into Emo might follow a list of all the great bands and band members in that genre that you have created and added your band to.
Or, think sideways, and create lists that aren't just music but place you in a niche – such as 'Great people from [your town]' – linking you with politicians, businessmen, painters and the like, or 'Skate Dudes' where you lump your band in with (assuming you are skate band!) Tony Hawk, Ryan Sheckler and bands like The OffSpring. It doesn't all have to be just music and musicians!
Put lists together along those lines and then tweet the URL of the list to your followers and encourage them to pass it on. Recommending a list of cool people that your fans will like will be very well received.
As a list builds a following you'll find other interesting people who you hadn't found before by clicking through to see the people who are following the list!
Being on lists complied by other people is obviously appealing – and, on occasion, you might find a list that you'd like to be on. If it's appropriate, maybe you can tweet the list owner and suggest that they include you.
Don't though just approach someone and ask them to add you to their list as your first contact – you need to have genuinely tweeted back and forth before asking. Otherwise it's like walking up to them in the street and making demands as a complete stranger – something people do all too often online and deeply ineffective – let alone rude.
It ought to be easy though. If you think you'll fit on their list you should have common interests to discuss.
Since the followers of a list can see your tweets in a list whether they follow you or not directly, this can greatly expand your audience if you can get on to some widely followed lists. I'm not suggesting that you should try this in particular, but, for example, Mashable's 'Music list', which we mentioned before, has 1300 plus followers that you would instantly access.
To see what lists you're on, click on 'Listed' on the top right of your profile page – mine through the other people on those lists to see if you should follow them as well! If a follower thinks you fit in a group – work out why!
It's really easy to create a list. Just click the 'Lists' button at the top of your stream and a drop down menu will offer the option to create a new list. Fill in the details and you're done. Obviously for maximum exposure make your list 'public' – 'private' means just that and you'd miss out on the viral nature of lists.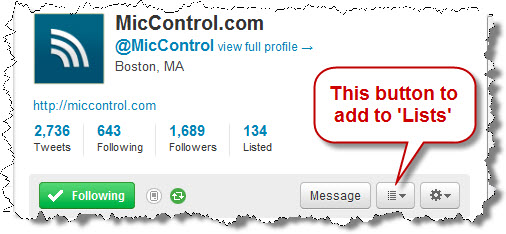 Adding people to lists is done from a variety of parts of the Twitter profile, but, in essence, if you click on a profile, you'll see the list icon – as shown in the image, and you can add people to a list there.
It's also worth checking out Listorious and listing yourself there – it's a Twitter people search tool but also home of all things Twitter list related!
21. Shorten & track your links
We mentioned shortening the URL's that you tweet in point 8.
It's necessitated by the nature of the 140 character limit set in Twitter. Many of the links that you might want to share could well be 140 characters or more on their own, leaving you no room for any actual tweet content!
Although URL shorteners had already appeared, it was Twitter's need for fitting maximum info in a tiny space that made their use explode.
If you don't know what they are (is that possible if you've read this far?!), they will take your any length URL and shrink it to a manageable number of characters and then redirect anyone who clicks on it back to the original URL.
You use them either by visiting their site and entering your long URL into a text box, then clicking and the site will give you a short URL to copy, or they can be automatically linked to some services, primarily third party clients like TweetDeck.
The usual length will be compressed to something like 13 or 14 characters, but you can get as little as 5!
So, you're using a URL shortener because it cuts the space your link is using in your tweet, but what you get in return is a huge amount of data and that's where the fun really is.
Just as a quality email list system will give you vast detail about who does what with the emails you send them, the best URL shorteners give you the same about the click stats of the links you tweet.
In order to get this data you're going to need to use one of the services that require you to set up an account where all your links will be aggregated. Most do these days but some (like the original Tinyurl.com) can be used on an ad hoc basis without signing in – so you'd get no tracking data.
Why do you want this data?
Well it'll tell you what people are doing with the links that you share – which are popular, which aren't, which get clicks, get RT'd and so on.
You can then use that to tailor your future tweets, learn which words that you use in a tweet get a reaction so that you can write more engaging tweets and even find out which links are popular enough to merit being tweeted more than once.
There is a great article on this and other ways that musicians can and should use data tracking on the Scentric Music blog (all their posts are detailed and accurate) that I recommend you check out.
So, now that you know you need to use a URL shortener, you have loads of options.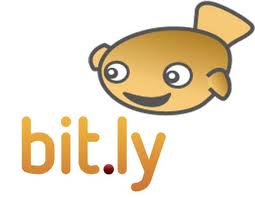 Bit.ly is my preferred shortener. The main reason is that it automatically links in with TweetDeck (see the Sentric post above for how), but I also love all the tracking data.
If you opt for HootSuite (see point 27), you'll find yourself using Ow.ly, which is great but some people have a problem with something it does to your browser that I don't really understand!
Rather than going through the others here, read this great article which lists out the features of the top 10 URL shorteners out there.
Twitter's own service which will automatically shorten URL's when you tweet from Twitter itself is being worked on and is currently only used for Direct Messages – you can read more about that in this Twitter support article.
You might also one day find the need for the shortest possible links and then you'll need these two articles on the Single Function site – Really short URL shorteners and the Shortest URL shorteners.
One last word about URL shortening. People have become used to clicking on shortened links but some people worry about them hiding spam or worse viruses.
Given that bit.ly has a great reputation for avoiding such problems and that it's very short, has great tracking and links with it's API to third party Twitter clients – I can't see much reason to use any of the others, for now!
This is part 4 of a 6 part post which are all collated on this page – Twitter for Musicians. If you wish to link to the post, you might decide to link to that page instead.
You can find part 5 here – Twitter for Musicians – Involvement & Music.

Comments
comments
Powered by Facebook Comments