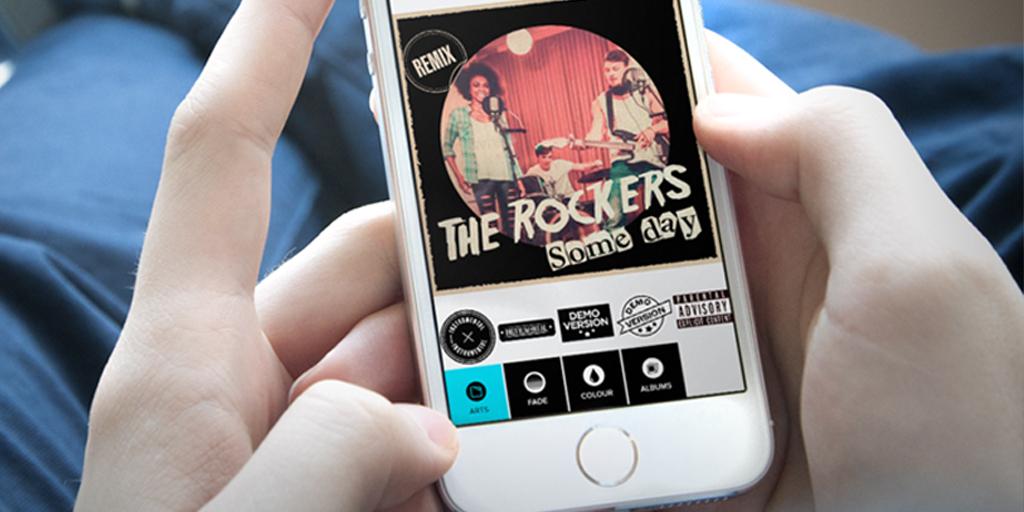 Every musician releasing their music through iTunes, Spotify, Bandcamp, on their own site or even just uploading to a site like SoundCloud, needs to have sleeve artwork for the release.
And that artwork needs to be the very best that they can create given the limitations of their skills, time and budget.

If you have poor artwork, or – the horror – no artwork, you're sabotaging yourself!
This post is all about a solution that we've helped to create – An app for iOS called TAD.
You can get it here:
Get TAD the App Now!
Our Sleeve Artwork Survey Said
Of course, we all know that we should be making the best music we can and presenting it as well as possible. Professionally, and always adding to the 'story' about you and your band and your music.
Creating the 'brand of your band' if you like.
Consistent high quality artwork with a recognisable logo and a typeface that fits your genre are all a part of that branding.
Knowing that we'd begun working on something that would help every musician deliver this quality artwork we asked our readers to take part in a survey.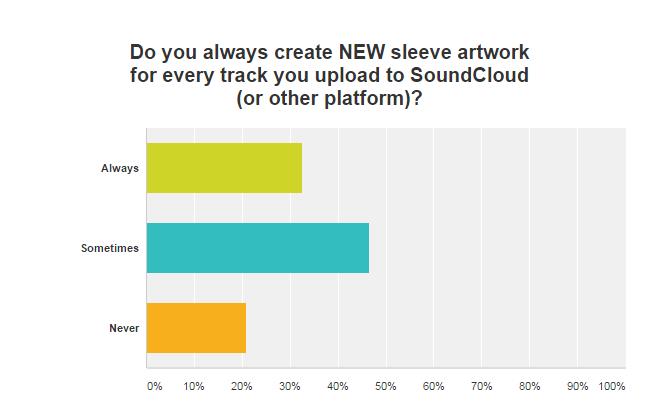 What scared the Bejeezus out of me was the answers!
at least 65% of the musicians we asked DON'T make new sleeve art for every track they upload
44% of musicians are unable to use any recognised design software (such as Photoshop)
Of those that did, 53% had only basic Photoshop skills
Over half of all the musicians we asked were either paying a designer or using an unpaid friend for all their cover art.
To be fair, there were also many inspiring and triumphant answers!
Don't get me wrong – there's a lot of musicians out there who have the time and ability to fire up Photoshop and produce a cover image for every song that has the same artistic quality as the music they've crafted.
And there's clearly a lot of amazing photographers and illustrators either in bands or working with them (often for free) to help both parties realise their artistic ambitions.
But, the damning evidence from this survey (and it was decent sample of well over 500 working and DIY musicians) is that a good half of musicians aren't making high quality artwork for all their releases.
The main reasons given were, predictably, budget, time and skill.
In fact, many – even those with design skills – said that they craved a quick and easy solution.
For some that solution wouldn't replace their professionally designed artwork for their main releases, but even they wanted an option for quickly making something when they were short of time. A classic example is when there's a rush to get a new track up on SoundCloud to meet a deadline.
There's an App for That!
This was exactly the dilemma that faced an old friend of mine, Lee Jones.
A musician who I'd managed in the past, Lee had moved to Australia where he'd formed a new band, The Solicitors, and was also working as a record producer.
Needing to make some artwork quickly for a release that he was uploading to SoundCloud, Lee searched for a solution. There were some online tools that he could use but he was after something to run on his phone – an App.
He wanted to have it with him, to hand, for whenever he needed it, and crucially he wanted there to be no learning curve. He wanted it to have that intuitiveness of a well made App.
He couldn't find anything that did exactly what he wanted and the spark of an idea came to him.
He's written about what happened next in detail on the TAD site – it's worth a read.
In short, he contacted me – as an old friend who still worked in the industry – and we hooked up with another music business refugee who is now a leading Australian app developer also, as you can tell,  handily in Australia!
Together, we worked on the idea from the middle of 2014 and, finally released TAD last week.
You can install it here:
Get TAD the App Now!
Use TAD to Make Your Sleeve Art
Our main aim for TAD was to make it quick and easy to pick up and use but we also needed to ensure that everybody would be able to get high quality results.
We also had a few key aims that we wanted to make sure we included.
Watch this overview that shows you the basic steps to making your first sleeve.
For those that wanted to make TAD their main cover art design tool, we needed to make sure that the app was able to export your finished designs at a high enough resolution to satisfy the current (and future) requirements of the main digital music retailers – iTunes, Spotify and the like.
So, TAD can export finished artwork at up to 3000 pixels square, which is well above the minimum requirement for those stores.
We also wanted to be able to import a logo.
As we researched what musicians wanted and what wasn't available in other apps, this requirement came up again and again.
So, in TAD, you can add your logo as a .PNG file so that all your artwork can have your consistent branding. You can, of course, use this feature to add other images to your cover art.
We also went to great lengths to try to take some of the uncertainty out of the design flow for those who aren't at home with that side of the creative process.
To that end we looked at thousands of album sleeves and boiled down some of the core layouts and design principles into 38 templates.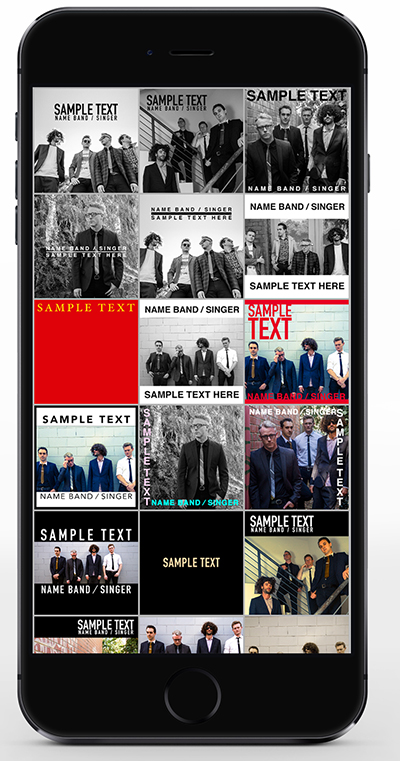 You can start with any of these templates and use a photo that is already in the app or, of course, your own image on your phone or one that you've just taken (or even one you have processed in another app). Or, you can start from scratch and work upwards from a bare image.
The advantage of working from a template is that you know we've followed some very well thought out layouts so you don't need to overthink the process.
Many album sleeves work best with a great image and just the name of the artist and the album (or song) title.
These templates also allow you to take advantage of otherwise complicated options, such as vertical text. All the templates that have borders or frames allow those to be altered as to colour and transparency.
Whichever route you choose, there was another key option that we wanted to include – unlimited text and art elements.
In TAD you can edit the text boxes in the templates or add as many new text areas as you want. As you'd expect, the colour and transparency of text can be chosen and finessed, and there are a range of fonts to choose from. We'll also be adding more fonts to these as we roll out future versions.
And, although it was critical for us to keep TAD simple and not introduce complicated steps and concepts (such as 'layers') we knew that we wanted to enable musicians to build up graphical elements to make all their designs unique. So we have included what we call 'Art elements'.
As with fonts, you can add as many art elements as you like and they can all be manipulated for colour, rotation and transparency. You'll find that you might have to work out what order to add elements in to get the best results – but it is intuitive.
We also wanted to make sure that TAD was handy for making quick images to share on Instagram, so you'll find that some of the art elements lend themselves to that. It wasn't in the original plan for the app, but we've been using it for that so we think musicians will too!
Here's another video where Lee gives you a full run through of making a sleeve from scratch so you can see how quick and easy it is.
TAD – Your Thoughts
So, please do go and grab the app here:
Get TAD the App Now!
It's available for iOS at the moment but an Android version is in the works and will be available as soon as we can get it finished.
TAD will be updated regularly and we're very keen to hear all your feedback so that we can update and improve the app to make it as good as it can be.
We also really want to see the artwork that you create. You can send that to us here or to any of the social media profiles we have set up for TAD. You can follow those below.
Comments
comments
Powered by Facebook Comments