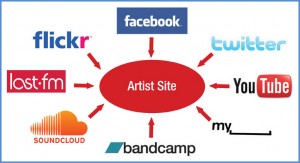 Many people pass through our site and our office and tell us that they don't have a band website.
It upsets us.
We've written about it before here, but I want to go into a little more detail so that we can try and convince every artist that this is the most important thing they can do to begin promoting their music.
This has come about because I've been commissioned to write a book provisionally called 'How to break your Band on the Internet' and it's made me plot out the exact methods that we recommend and use. The book will give step by step details for how any musician can use all the tools available in the digital age to promote and market their music. And the starting point for that is to have your own piece of virtual real estate that you control exclusively and completely.
So, we're going to have a series of posts, starting with this one, that will tell you everything you need to know about your options for building a website to promote your music, what it should contain, how it should look and how to build one yourself for not a lot of cash.
Let's begin by looking at the reasons why you need a website at all.
1. You HAVE to have at least ONE place where people can find you and your music
We'll explain why that place may as well be your own site in more detail below. But, let's start off with the basic concept that if someone hears about your band (whether that's a fan, a promoter, a record company…whoever), they need to be able to find you online easily and they need to be able to get the information or music that they need from that search.
It is easier to present all the key information – a biography, live dates, contact info, music and video – on your own site than it is on any third party platform or social media site or page.
People are used to seeing a certain type of site in a basic 'blog' layout and, if built reasonably well, your site will be easy to find and easy for them to navigate.
The key issue is that you have one core place online where people can find you.
2. You need to be in  total control
We'll look at the options for building a website using some of the available third party platforms in the next post, but we'll try to encourage you to go the whole hog and build a website to your own specifications with no third party restrictions.
The point is that once you've accepted that only a website designed to do what you want it to do will be good enough to support your career, then you have actually freed yourself to achieve the best possible result. We work with artists in music and companies both within the music industry and from other disciplines. The biggest mistake that they always make in their digital marketing (until we help them fix it) is that they decide they want a website but they don't work out what they want it to do.
This might seem like a simple thing to say but don't miss the significance of it.
There are very few businesses that only need a virtual brochure (i.e. a site that simply says this is what we do and here's where to find us). So, as well as providing the basic information as we pointed out in the first point above, a website should do much more. Almost every business, and definitely every artist seeking any level of success, needs a website that is designed to inform potential fans (customers in the case of a business) about them and their music, then to acquire those fans for the long-term (generally by email subscription but perhaps by membership or some other device) and then to convert them into buying fans.
Only in a place where you can build whatever you want is it possible for you to properly create an environment that makes that acquisition and conversion process effective.
Making fans come to your website to go through that process also allows them to share that experience with all their friends across all online properties (which those other sites won't likely encourage themselves as they want to keep 'traffic' in their own eco-system) and it persistently and constantly allows you to build deeper and better engagement with them
If you build your own artist website, it belongs to you and you can design and build it exactly as you like so that it does all of this, properly.
3. You can build a coherent brand and image
So, not only can you build in what you want your website to do, but when it's totally under your control you can make the design and imagery truly reflect your band  and your brand.
If you're going to succeed as an artist with any kind of commercial appeal (even in a small niche/genre as a 'hobby' artist) you will need some degree of image that reflects your demographic and how you fit into some kind of scene.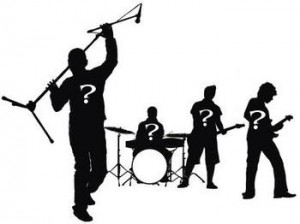 Your photos, artwork, stage outfits and a plethora of other design elements will need to fit that aesthetic. I know that the degree to which this is true will depend on the style of music you play and the level of your ambition.
A local covers band needn't worry so much as an artist aiming for global success. But, at the most basic level, you'll need to fit within certain parameters that your ideal fan will expect. In short, if your playing folk you'd better not wear full heavy metal leather and studs with crazy dark 'end of the world' graphics.
If you accept that,then all your imagery should reflect your chosen path – and that should be rolled out across all your online profiles.
But, it should begin with your site and that can dictate the design elements you use elsewhere. Again, it's easier to refine your image and design on a fully customisable site that you have total control over than it is anywhere else.
Get it right on your own site and spread it coherently from there.
And, don't forget that only on your own site will your brand be paramount. On any other platform your brand will always be subservient to the brand of that site.
4. Having your own artist website looks professional
Do you think that finding a great looking website makes a better first impression on a fan or someone who might want to help you in your career than if they can only find social media profiles?
I know what I prefer to find.
An artist who has bothered to work out how they want to be perceived (image and brand, as we looked at above) and has had the wherewithal and commitment to build a great website is one I will almost certainly spend that crucial extra bit of time checking out. The bottom line is that a good artist website impresses me and gets an artist over the first hurdle of making me bother to stay and look around at all. Then their music needs to do the talking. But, draw people in and you're on the right path.
In short, having a professional website makes it look like you're serious about your art and that you understand the importance of building for the long-term.
5. You CANNOT rely on social media platforms!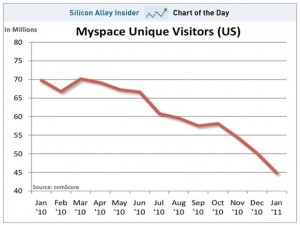 AOL, Geocities, Bebo, Friendster or MySpace – you might not be old enough to remember when any of these places were 'the shit'!
I am and I do.
And I know loads of musicians who had built up large followings on them and as those sites died they saw their fanbase evaporating before their very eyes, unable to leverage them to somewhere new or ever contact them again.
Really.
When you're running an efficient band website, your fans will be conditioned to return there as their primary source of information about you, new fans will find your site first and realise it's the best place to connect with you, you'll use it to build your fan mailing list and, (this is really very important) it will not disappear on you.
Social media sites can disappear overnight. Third party companies who host your website built on their platform and your hard-won email list will probably allow you to back up your site and fan data and (fingers crossed) they won't go bust….but it has happened before and it will happen again. That can't happen if you control your site.
Sites like Facebook also have a whole set of rules about what you can do on your profile. For example, right now you can't have an 'overt call to action or commercial message' in your Facebook Timeline cover image. That sucks.
You can put whatever you like in any banner or header image on your own website. When your new album is out you can have a big buy button and a picture of questionable sexual taste should you so wish. Try doing that on Facebook.
Not only might any third party business that you decided to rely on (a 'build your website here' company or a social media site) go bust overnight, slowly fade from prominence and lose traffic and public confidence or prevent you from doing things the way you want, perhaps the worst trick they can pull is to delete your site or profile. This might happen because you've transgressed their rules or they might get hacked or who knows what. But, again, it does happen.
The long and the short of it is that no matter how much we all believe that Facebook will be here for years to come and we can rely on their principles of fair play, not building your own website and sending your fan traffic there regularly could prove to be really stupid when Zuckerberg decides to walk out and switch the servers off if he has a tiff with his shareholders!
6. You can use the wonders of SEO to rank and get new fans
SEO – search engine optimisation – is a dark art and almost universally underused by musicians.
If you don't know what it is, we did a post and a simple video explanation of it here.
SEO allows you to make pages and posts on you website appear in search results that you target in the piece itself. So, if you think that fans of Goth music and bands will like your music, you can 'optimise' pages on your site and your content to try and make them appear in Google search results when people look for related things such as 'Goth bands', 'Goth music' and so on. It's a massive industry and there's a hell of a lot to it. That said, it is a viable strategy for attracting fans to your music. I touched on it a little more in my contribution to the mammoth 'Blogging for Musicians' post on The Promote Your Music blog.
Assuming that you've wandered off and read or watched that information and had your mind blown as to the possibilities, here's the point. You can (as in, it is possible) apply SEO techniques to content you post on social media sites or indeed to your page on Bandcamp or a site built with a company like Bandzoogle, but it isn't anywhere near as easy to do or as effective as it is with content on a site that you have total control over.
I simply can't explain that more in this article (it's far too big a subject!) – so you'll have to trust me as to the truth of that statement and the fact that it really is a viable strategy that can make your chances of success more likely. And to get the maximum benefit from SEO methods, you need to have your own website.
7. You can do whatever you like with it!
We've covered this in 2,3,5 & 6…to a degree. But, the true extent of what it means needs to be hammered home.
On your own site you can take risks, try new strategies and do stuff that you're simply not sure about. As we've discovered, doing that anywhere else might have unforeseen consequences! On your own site there are no restrictions and your site is ultimately customisable. You can do what you like and see if it works without any fear of breaching the rules, getting shut down and losing your fans forever.
8. You can do everything with it
Not the same point – I promise.
Your social media profiles and other outposts might be good places for alternative or additional methods of 'first contact' – for reaching people and giving them a first taste of you and your music but your site can do those things and can be optimised to acquire them as fans and convert them into paying fans. It can be all things to all types and levels of fan. This is much harder to do on a third party platform.
You can make your site the centre for engagement and the place where all your 'joined-up thinking' takes place.
Post images to Facebook, Instagram and Twitter, but link back to your site for more information or for fans to see a full set of photos from a recent gig. Post videos to YouTube but embed them in a post on your blog and then mail that link to your fan mailing list. Post your press releases and important news items to your website and, by all means, share those posts on Facebook and Twitter, but just an extract so that your fans must come back to your site to get the full story.
If you post all your news in full to Facebook, you'll end up training your fans to look there to engage with you – which is not what you want at all. People will stop going to your site.
Make your website offer the best experience to all your fans and make it the one trusted source for the latest info, the best quality audio streams, the only place for videos with extra behind the scenes info, and, of course, the place for exclusive discounts on music and merchandise for fans to buy.
Make it the place with the best total fan experience and then when you attract a visitor there on a whim, they may stay, do more, share your info across their networks, buy your music and become an evangelist for your band.
9. Sell what you like at whatever price you like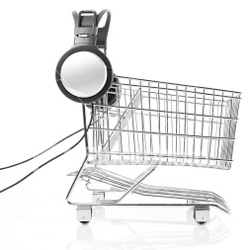 Of course we believe that you should have your music for sale on the usual digital retailers, but you'll inevitably discover that selling music from your own website, once you have established a core fanbase, is far more profitable per sale.
You can dictate the price of any sale and, when selling digital files, the quality that you offer. Many fans want full bandwidth audio files (WAV's or other 'lossless audio') which they can't get from iTunes. Sure, you can try and sell music within Facebook, but are your fans looking to buy when they are 'being social'? Probably not.
We work a lot with 'direct-to-fan' platforms such as Topspin and we've learnt from experience that the flexibility of offering tiered packages and bundled packages direct to fans converts at a significantly higher rate than 'raw traffic' to a site like iTunes.
Not only will it convert better, but you'll get to keep all the cash, not the smaller percentage that you'd get through a digital distributor or aggregator.
Once again, it comes down to flexibility and efficiency.
10. You can make money from other sources
I'm not going to make a big deal about this but I can only think of two places where the average musician can make money from their online properties that aren't directly from selling music or merchandise (ignoring branding, sponsorship, live co-op's and ancillary income from artist activities). One is by becoming a YouTube partner and getting paid for the ads that YouTube run against your videos. The other is by leveraging traffic on your artist website so that you can sell Advertising space, do co-op deals with brands such as paid reviews or competitions and running affiliate marketing offers.
We'll look at some of these possibilities separately as they are very specific and they really won't apply to everyone (a certain level of traffic is a pre-requisite) but they are only going to be open to artists who have total control over their main web property. You can't sell separate ad space on your Facebook page!
11. You can build a members area and forum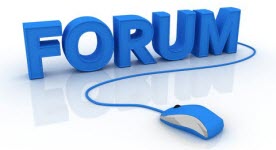 Being able to do whatever you like with your site means that any clever way that you can think of to monetise your relationship with your fans or any way that you can give your fans better access to you, your music and your artistic world (free or paid) is simply a matter of dreaming it up and getting a coder geek to build it on.
The DIY musician has the chance to build a sustainable career on a much smaller fanbase than an artist signed to a traditional record deal. The much touted '1000 true fans' paradigm can support a musician. One of the ways to enable this is to build premium VIP areas.
Alternatively, the simple addition of a forum where your fans can congregate and discuss you and your music brings exceptional additional value to your website. Every post in your forum gets indexed in search engines making your site more visible in Google, in turn meaning that more people will discover you. Obviously, participating in your forum with your fans deepens the engagement that your fans feel which in turn further strengthens the bond you have with them. UK DJ Erol Alkan does a great job with this – see here.
I know that a forum for an artist with a tiny fanbase will be a wasteland and no-one will join a paid VIP section for a new un-established artist, but when and if you build a fanbase that is big enough to support those kinds of things, your website will be the place to set them up.
12. You are investing in yourself
I've assumed throughout this article, without actually saying it, that you're building this website on a domain that you've bought and using hosting that you control – we'll look at what that means in another post very shortly.
But, the point is that you build this website for all the reasons we've covered and you don't let go of that domain that is so intrinsically linked to your artist name after all the years of effort you've put in.
And, as long as you do, you're building an asset for the long term which will bring people in to discover you and your music constantly. If you engineer the 'conversion paths' (how you get those fans on to your mailing list and turn them into buying fans) effectively, you will slowly and incrementally build an army of fans through your website.
It is a simple truth that if your music is good enough to get a positive reaction from a small section of your potential global fans, you can build a sustainable career through the proper use of online music marketing. If your music isn't yet good enough, potential fans can watch your journey as you strive to become 'good enough'.
Whichever stage you're at, you're investing in yourself and creating a digital home for you and your fans that will work for you in silence and with an automated dedication that you cannot afford to be without!
13. It's your's… forever
I've said this more than once in this post.
You get the point right?
Your Facebook Page and your Bandcamp page are NOT yours. They belong to other people and cannot be forced to do all the things that you might want to do.
Build a band website that you control completely as soon as possible and it will serve you forever.
Comments
comments
Powered by Facebook Comments