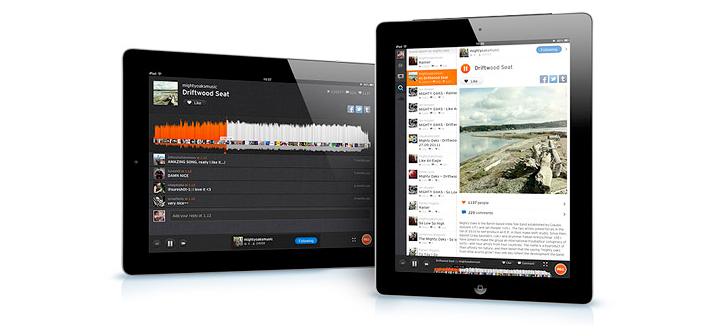 There are a core set of sites that every aspiring musician should be using to help build a fanbase and spread the word about their music.
Facebook, YouTube, Twitter and Instagram are obvious choices, but many musicians forget about the one social site that is driven by music alone – Soundcloud.
It's true that music is a core part of YouTube and the place that many people turn to find music, whether for discovery or simply to use as a streaming platform – indeed YouTube is by far the biggest streaming music platform on the internet. Much bigger than Rdio and Spotify.
But if you're looking for the website that is the best place for music discovery and where you'll find a community of music lovers obsessed with finding new music, then Soundcloud is the place to go.
Of course, there's also Soundcloud's de facto importance in the world of music blogs and how that can be leveraged for promotional effect.
Soundcloud is Still Growing – Fast!
On top of that the growth of Soundcloud is stratospheric. There are now 175 million active users per month and Soundcloud is starting to consolidate its leading position as THE place where music lovers can both create and share music but also discover and listen.
In fact, the latest data shows that the behaviour of the users is also shifting slightly so that they are now more likely to be  using Soundcloud as a place to go and listen to music and the focus has shifted slightly away from the act of following (a la Facebook and Twitter).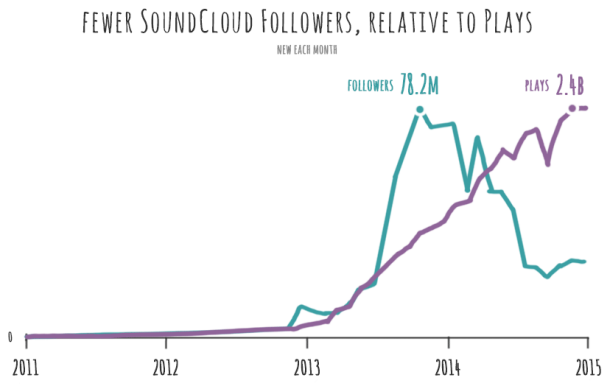 Don't be misled by that blue line on a downward slope. All that means is that the users are doing less following – although they are still doing a lot of that! What they are doing more and more of is the listening and its growth is very strong.
Artists are and should still be building large active followings on Soundcloud but the takeaway for every musician is that having great music on Soundcloud will lead to it being heard.
And, of course, that's what every artist actually wants and needs. To get your great music heard so that people can become fans.
It's not just about Dance Music
There is a belief that Soundcloud is all about dance music – and that is kinda true.
The dance music community of every genre took to Soundcloud in a big way from its earliest days in 2007 and that genre has remained the staple of the site. There's much about electronic music in general that feeds off the way the site works – the regular release schedule of lots of dance music producers and the remix culture plus DJ sets (now curtailed) all meant a Soundcloud artist could have a lot of activity in their profile.
However, every genre of music is represented and it's fair to say that although you MUST be active there if you're making dance music, the fact that many of your competitors won't be aggressively promoting on Soundcloud if you're in another genre probably means it'll be easier for you to stand out.
And how do you do that?
Although I run Soundcloud profiles for some clients of our agency and I know my way around, I am not the expert.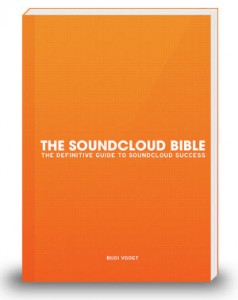 A year ago I bought a book called 'The Soundcloud Bible' by a young Dutch guy called Budi Voogt who immersed himself in the platform and learnt everything there is to know about building a following on Soundlcoud and using it as the engine to break an artist.
He IS the expert!
And he became the expert by getting stuck in and trying all his tricks on his own clients – and it worked. His first client went from 4,000 to 89,000 followers and well over 8 million plays. This client, San Holo, is now well on his way to becoming a world class DJ/Producer. Part of that is down to him making a series of great tracks but a very large part of it is down to Budi's skill and application in getting the very most out of Soundcloud for his client.
I have used the knowledge that I learned from Budi's book for all of our clients with great results too!
And now Budi has updated the book and the bang up to date Version 2 is released today.
He has reworked the book so that everything that has changed on the platform over the last year has been explained and he has added further methods that he's learnt and refined in that time.
Why You should get this Book
'The Soundcloud Bible' is the only practical guide to Soundcloud with detailed 'how to' information. This new release has 30% more content than the previous edition and is both a 'get-started' guide for beginner Soundcloud users, but is also filled with insider tips and tricks for veteran users.
It also goes far beyond Soundcloud, teaching you the fundamentals of online music marketing.
There are sections on mastering Soundcloud's functionality, how to set up the perfect account, building momentum and developing a content strategy (both of which are crucial), details about Soundcloud Premier & Monetization, plus Budi's own 'reposting trick' and 'playlist trick'.
However, the book also goes further than that. As I touched on above, Soundcloud has a symbiotic relationship with music bloggers, a vast majority of whom use the platform to find music, to host on their blogs in the embeddable Soundcloud player and also, in a new development, curate their own channels (some with huge followings) where they showcase music they are passionate about.
The book shows you the best way to make the most of this relationship – how to get blog coverage and ultimately how to get signed by a record label.
A Soundcloud Marketing Masterclass
Budi is offering the book for $19 – and it comes as a pdf and as an ePub and Mobi eBook so you can read it on any device.
But, he's also offering two other packages with an option for him to analyse your social media set up (at $49) and that plus a Skype session for $99.
I have spoken to Budi at length for our forthcoming podcast (stay tuned – the launch is due at the end of March) and we talked for well over an hour about music marketing in general and his specific knowledge of Soundcloud so I know that he knows exactly how to help musicians get the most out of their music on the platform. He's very sharp and the book has all his knowledge that will truly make a difference to your Soundcloud promotional efforts.
If you're making any kind of electronic music I really don't think you can afford not to be on Soundcloud nor be without this book.
If you're in any other genre the opportunity is perhaps even greater.
Click the banner below to read what Budi has to say.

We're working on the launch of a rock act and having discussed this specifically with Budi we are making Soundcloud a central part of our marketing plan.
Even if you decide that you don't need 'The SoundCloud Bible', take it from me, you do NEED to be on Soundcloud just as much as you need to have your own band website and be on Facebook, YouTube, Twitter and Instagram.
If you think doing that will be much easier with the expert knowledge of Budi at hand, then you can get that here.
Comments
comments
Powered by Facebook Comments