You already know that having your music available digitally is becoming more and more important in today's DIY musician environment – essential really.
As owners of an extensive music catalogue that we have for sale in a whole load of places, we can tell where our digital sales come from by looking at traffic and our monthly digital sales reports. A very important site to us for generating the interest that leads to sales is Pandora, and it's one key place that we would suggest you make your music available.
Pandora is a music discovery service designed to help people listen to and enjoy music they already know, and to help them discover new music they'll love using the Music Genome Project. On the site, you tell them one of your favourite songs or artists and they'll launch a streaming radio station to explore that style and genre of music for you. The system recommends other songs and artists that they think you'll like based on what you tell them and your listening behaviour.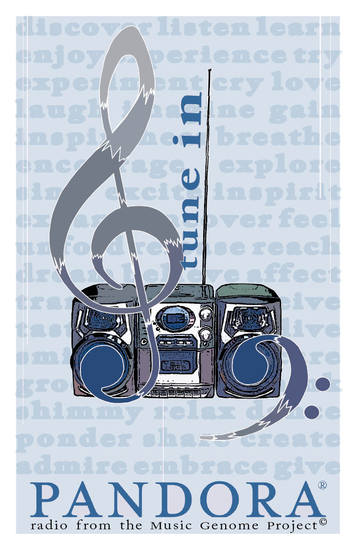 When Pandora accepts new music they painstakingly tag it with a whole load of identifying keywords to make the Genome engine put the right type of music in front of the right type of person to whom it will appeal. Unlike Last.fm, this is done by employees to a set of criteria (Last.fm does it by algorithms based on member's behaviour). More info on the Genome project can be found here: Pandora Music Genome Project
So, if you have commercially available records, then clearly, having them as part of Pandora will lead people who like similar bands and styles to hear your material. Such is the nature of the Pandora community that the people who use it are very open to finding new music – all good for you, the aspiring artist.
We've also found that not only is the feedback about new artists very positive, but Pandora users also go out and buy music they have discovered on Pandora and evangelise about it to others – spreading the word about you even further.
However, the bad news is that getting your music onto Pandora is not as straightforward as it sounds.
First off, they don't take everything that they're sent – they have a subjective quality control threshold that you are going to have to satisfy – not all our records get approved!
And, secondly, Pandora can only stream songs to users in the US due to licensing laws, and as such, users from outside the US will find themselves blocked if they go to the Pandora site. Still, the US is a very significant part of the world market and worth targeting – even if you don't live or tour there.
If you're outside of the USA, you'll never be able to stream music from Pandora as a user – it's not possible. (Actually, if you're a bit of a geek, you could do it by hiding your IP address or other things that we don't understand!) However, you can still use the Pandora site for promotion of your music, without a fully functioning user account. How? You just need to sort yourself out with a US-based email address. If you're in the States, obviously this is no problem to you, however outside of the States this is a whole other matter.
When we decided to put some of our catalogue up on Pandora we asked a friend who lives in the States to set us up a US email account, which we now use specifically for Pandora. It's just a Gmail account that he set up from his US-based IP address.
So, if you have any friends or family in the USA then that's the perfect route for you to get access to Pandora. Other options include doing it whilst on holiday to the States, or finding someone who is going and getting them to log onto a computer long enough to set you up an address. If you have no contacts in the US, ask around (try forums that you should already belong to!) and see if anyone can help you. This may seem like an annoying thing to do, but it will be worth it in the end.
So, once you've sorted out your email address, here's how to submit your music!
Once you have signed up you will be able to submit your music through your profile by going here: http://submitmusic.pandora.com. This is now the only place that you can submit your music to Pandora, so make sure that you have the following available to you before you start the submission process:
* A CD of your music
* A unique UPC code for that CD
* The CD to be available through Amazon. Pandora cannot accept music available only as downloads through the Amazon MP3 store; you must have a physical CD for sale.
* MP3 files for two of the songs from your CD
* The legal rights to your music
Anything that you want to submit must be available on Amazon and you will be asked to provide a UPC barcode on submission. This is a 12 or 13 digit unique number that identifies your release. If your release does not have a barcode then you can get one from here: Nationwide Barcode. There are other places that you can get a barcode that satisfies Amazon – Google "upc barcode for my CD release" or something similar for the latest information.
This page is worth a read as it tells you a load about how barcodes work – http://www.cd-fulfillment.com/bar-code.asp.
By the way, we really like the service that that company (CD-fulfillment) offer. One at a time CD's, made on demand – so you can have a commercially available CD without a minimum stock quantity. Have a look around their site here – www.cd-fulfillment.com.
If you don't already have your stuff for sale on Amazon then the best way for you to do this is through Amazon Advantage. It is the simplest and quickest way to get your CDs up for sale through Amazon sites and is targeted at self-publishers. For information on this head over to Amazon Advantage UK if you're in the UK and Amazon Advantage US if you're in the States. There is a significant charge (approximately $30 per year) but it's a good system and that fee applies across all your stuff for sale on Amazon – it's not per CD.
If you tie that up with on-demand CD manufacture from CD-fulfillment (or other companies that are out there offering that service), you can get CD's on sale at Amazon for less than $50 all-in.
To start your submission process you will need to send the two mp3's from your CD via the Pandora site to their approval team. You will be told that your upload has been successful and then it's all a case of waiting. It may take a while before you hear from the submission team again as they get a huge amount of music to process but eventually you will get an email telling you if your submission has been accepted or not.
An updated status message for your submission can always be viewed here:
http://submitmusic.pandora.com/submit/status and you'll need to sign in with the same Pandora account that you used to submit your music in order to see the status.
If it has been accepted you will then be sent an email providing you with a link to download a full submission form which you must then complete and sign before returning to Pandora with a full, finished copy of your release for them to add to their catalogue.
Once this has been received, your music is uploaded onto their systems and becomes available for everyone with a Pandora account to listen to, with the option of buying if they like it!
It can only help spread the word about your music to a receptive audience – and once done it'll sit there giving you a little exposure all on its own – not like all the Social Networks that you should be beavering away at day in, day out!
It's as easy as that. So, if you're music isn't on Pandora, go get it on now.
For further discussion on the Pandora requirements have a look at this topic on Artists House: http://community.artistshousemusic.org/forum/topics/the-new-pandora-requirements
If you like the idea of this, you can get some similar listener driven promotion at www.last.fm. Have a look here and read this great blog post about it.
http://www.jimmyshelter.nl/blog-75-Using-Last.fm-to-promote-your-band-in-6-easy-steps.html
http://www.knowthemusicbiz.com/index.php/BIZ-BLOG/BIZ-BLOG/How-to-Promote-Your-Music-on-Last.fm-by-Fiona-McLaren.html
And here's a pdf on how to promote on last.fm. It's a few years old but still worth a read. http://www.quaxle.com/ebooks/quaxle-ebook-lastfmpromotion.pdf
Comments
comments
Powered by Facebook Comments