There will come a point where you think you're ready for a record deal, a manager or a publishing deal (or that other much touted 'new model' deal with some music related company). You'll want to get yourself heard by the right people so what better way to do it than to send out a demo right?
Record labels, managers et al get hundreds of thousands of demos, and if this is the route you want to take then there are some things that you will need to take into account if you want to make your demo stand out from the rest and be given more than a second glance.
It's going to take a lot of hard work and luck but if you make sure that you take notice of the following points, then you'll be on the right track.
In this article, note that wherever I talk about a demo, I mean either a physical CD mailed to someone or a link to a MySpace page or band website where all the relevant information can be found and songs listened to. I'll make distinctions where necessary.
1. Make sure you're targeting the right labels.
If you're an indie, guitar led band, and that's all you ever want to be then there is no point sending your demo's to hip-hop or dance labels. You won't get a second look as the labels just won't be interested. That's not what they do! To start with you should be looking for labels who work with bands that are similar or in the same genre as you. They are more likely to give you a second glance and maybe even a listen…
As a musician in a band, you really ought to have some idea of who those labels are for your genre, but if you need help, search on the web for directories that can help you. In the UK, you have to use The Unsigned Guide, and in the Us there are choices, but we like Galaris.
Once you've found a label, you need to find a name. A personal touch is really going to help in getting the person you are contacting to actually listen to your stuff.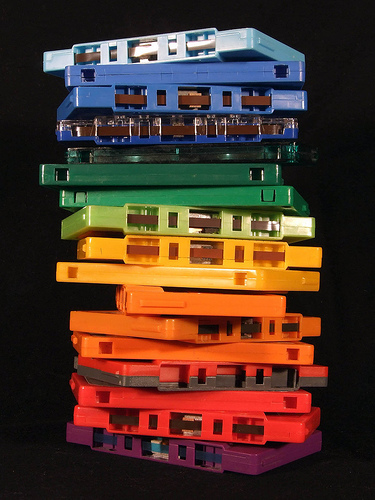 2. Make sure your demo is listenable.
This doesn't mean that you have to go and get all of your tracks professionally recorded. That would be silly and a complete waste of money. However, you need to make sure that whoever is going to listen to your demo can see the potential there. So, make sure your singers are in tune, the recording is clear and there are no white noise issues or glitches.
There are lots of inexpensive recording software programs doing the rounds now which you can use to do this, or you could strike a deal with your local studio to do it on the cheap with the help of one of their engineers.
3. Make sure you're ready for label interest
This is another very important point. When you're just getting started you can't expect all of your songs to be hits, and no one else expects them to all be hits either. However, when choosing songs to send out to labels you need to make sure that these songs are your absolute best so far.
If not, they won't be given a chance, and you won't be given a second chance in the future. You'll be remembered as the band that had no songs. If you're not sure that you or your songs are ready then hold off on sending out demos until you're absolutely 100% sure that you are.
I recently came across a service here at SoundOut, which I heartily recommend. We'll look at this in more detail in the future, but, in short, if you spend $20 to $50 with them you'll get the most honest appraisal of your songs from real music fans who get your genre. We don't get paid for recommending this service, so I mean it when I say that it's money well spent – to see if you really have the material ready that you think you have!
4. Get your promo package right.
Labels like to know a little bit about you, and a standard demo comes with a bio, some press cuttings, a photo and your music, but there is such a thing as too much information…and too much music!
We get a lot of demos in our office, and the first thing we look at is the size of the package that's been sent through. If it's huge then it goes to the bottom of the pile. Full albums or CDs with lots of tracks on will also get put to the back of the pile. Most people in the industry have a limited amount of time for demos so we like them to be short and snappy.
Ideally, when I get a demo through the post I like to see a half page brief bio, a handful of press cuttings (if you have any that is, and if you do, make sure they're good ones!), a photo in which I can see your faces, and a CD with no more than 3 tracks on, and your best track first. By best track, I mean your most catchy, hooky, universal song, not the one you're most proud of. If you're not sure which one this is then ask your fans, friends and family.
Another thing to add to your package is details about any previous releases or significant touring you have done in the past and also if you have any attention from other industry professionals, i.e. management, an agent etc, and let them know who these people are. This will help raise your profile before you even get a listen.
If you're doing this submission by a link, then make sure people can find all this stuff on your site or MySpace page easily too.
People do look at numbers of plays and friends on a MySpace link and it does have a bearing – which is why we do think building numbers on Social Networks is part of your job – but everyone knows that those numbers don't necessarily mean fans, so don't get too hung up on it. What people are looking for is how your fans interact with you on those pages – so make sure you encourage commenting as well as friend adding, for industry people to see that you have a real buzz around you.
5. Don't forget your contact details
Every piece of paper and every CD you send a record label must have your contact details on. This includes your email address, a contact name and phone number and your website and MySpace address. It's no use putting these on one piece of paper and thinking that because it's all together in your package the label will know how to contact you. Papers and CDs get mixed up, bits moved or lost, and the chances are that your promo package will go in one pile and your CD in another.
By putting your details on everything the label have no excuse to not contact you if they like what they see or hear. Putting your MySpace address on also allows them to check out your songs in the event that the CD is misplaced, so when you start sending out demos make sure that the songs you put on the CDs are the ones that are on your MySpace.
Same thing is true on sending a MySpace link. Make sure that email addresses and telephone numbers are there to be found.
6. Does the label you're looking at receive unsolicited demos?
Lots of labels ask you not to send unsolicited demos. There are many reasons for this, including time and space issues, and even legal issues in some circumstances! If you're not sure then call them up and ask them.
If they do take unsolicited demos then feel free to send your package in, however, it's better to find out who the specific A&R man is in your field at that label and start a conversation with them directly. That way they know who you are first and may actually request your demo from you. This route is by far the best way to get yourself noticed by any label.
7. Be Polite
If you're serious about getting a record deal then, unless you're very lucky, you'll send out lots of emails and make lots of phone calls…and will likely be ignored the majority of the time. If this is the case the please don't get bitter about it, it happens to most people. But bear in mind that if you do get someone to talk to you, then you should show a little gratitude.
The more polite you are then the more people will be inclined to help you in the future. It may be that the A&R person you are talking to can't help you, but if you've been polite and gracious then they could help you out by giving you details for other people who could help you, or even recommending you to someone. You can never know just how influential the person you are talking to is.
8. Don't be discouraged
Sending out demos can be stressful, demoralising, soul destroying etc, and you're likely to hear the word 'No' more times than you'd ever imagine but you can't take it personally. If a label turns you down ask them to give you a bit of constructive feedback. It may be that you just don't fit in with what they want to do in the immediate future.
Take whatever you're given on board, go away and become better for it. Consider your demo, decide if there was anything you could have done differently that might have made a difference, and then learn from it and move on to the next label. After all, no one expects you to be the finished article straight away! If you're in this for the long haul then you'll constantly be changing, so see it as work in progress.
Good luck!
This article is a partner piece to an earlier article on this site titled 'How you should approach a record label or manager'. There may be a little repetition but this article is by Amanda and the other is by Ian, so reading them both will give you a little extra insight from two perspectives!
Comments
comments
Powered by Facebook Comments