In this post you'll learn exactly how you can set up a system for your musician email list that will collect email addresses from fans on your band website.
This post is one of a series that will show you in detailed video lessons exactly how to build and launch the entire website and fan email capture strategy that we recommend and use with our clients.
From our experience, having a system that collects fan emails on autopilot is the number one strategy that every musician should employ to guarantee that you can create growth for your career.
Any and every musician can follow this process and build an artist website and band email list system for themselves.
Don't worry if you think that the technical side is beyond you - it isn't.
And it won't break the bank either.
The first stage in building your musician email list is to set up your email list software.
As we've said elsewhere many times, we recommend using a piece of software called Aweber to run your mailing list.
We think it's the best email list software that you can buy for a whole host of reasons.
In this post we're going to walk through step-by-step exactly how you should set up your mailing list and you'll also learn the entire email capture process that we recommend. This involves creating a 'Squeeze Page' on your band website which is how you will capture the email address of your future fans, which is covered in detail in another video tutorial in this post.
The entire email set up process is set out in the video below and then we highlight some of the steps in the rest of this post.
First, watch the video below that covers getting your email software up and running.
​We're now going to highlight the main steps and you can also download the accompanying checklist by clicking below:
​CLICK TO GET THE FREE COURSE CHECKLIST NOW
What Do You Need?
To set up your fan email list system, you're going to need:
3. ​A credit card or Paypal account
4. An hour or so

What Does It Cost?
The Aweber account is a month's free trial and then costs from $19 per month after that, which is enough for most artists in the early stages as it allows for 500 names on your email list.
When you get to the stage of building your Squeeze Page (in the next post) you'll need to purchase the SeedProd plugin, which is a one-off purchase and costs $29 for the basic version which is all you'll need.
So, setting up this email capture system is going to cost you $29 for the first month and then $19 each month going forward.
As your mailing list grows the cost of Aweber goes up. For example when you have between 501 and 2500 fans on your mailing list the cost is $29 per month and for 2501 – 5000 fans it's $49 per month.
​Critically, Aweber does not charge you for sending emails. So you can send emails to all or some of the fans on your list as many times as you like every month and it doesn't cost you any more.
This will very quickly pay for itself when you realise the power of building a deep relationship with your fans and that you can contact them at will (as we covered here) including when you ask them to buy your music, tickets, merchandise or to support you in something like a crowdfunding campaign.
In terms of time, this step takes a little longer than the launching of your band website in the previous step as there's more to watch and, although setting up Aweber is quite quick, you will undoubtedly spend time thinking about and designing your Squeeze Page.
Nonetheless, the whole process can easily be done in about an hour.
Setting Up Your Fan Mailing List

Before you get stuck in to buy and set up your Aweber account, it's important that you understand how a person visiting your website is added to your mailing list.
You can find our thoughts on using a professional email software system here, but primarily you can't be serious about building a mailing list and using email marketing unless you use some kind of email software.
Collecting emails by hand at gigs or keeping them in a spreadsheet and mailing them from a standard email account is amateur hour and is going to cause you a lot of problems, not least of which is that your emails will probably be marked as spam and not reach your fans.
All the major email list software providers have technology that ensures they are 'whitelisted' so that emails sent using their service will at least reach your fan.
But their superiority goes much deeper than just that.
A service such as Aweber enables you to deploy sign-up forms on your band website and on social media so that people can be automatically added to your fan mailing list. Fans can also be added using apps for use at live shows or by uploading those spreadsheets you might have been using until now!
They are designed to send tens and hundreds of thousands of emails at once with no sending issues and you can also track open and click rates and a whole host of actions.
Then you can 'segment' your lists and send more email to fans who missed an email or you can break out your fans by location, age or purchase history – and, as you'll no doubt appreciate, knowing which fans have bought your music can be extremely valuable when you next ask people for a financial commitment.
There's also levels of automation that allow you to move, add, and modify your email lists (since you can have one for live shows, one for your site, one for buyers and so on) and the people subscribed to them.
A system such as Aweber actually does a lot more and as you get to grips with it you will start to wonder how you managed without this clever bit of technology! Even so, it is easy to set up and use.
However, the killer feature of a professional email system is that they allow you to send automated email sequences using an 'autoresponder'.
What Is An Autoresponder?

An autoresponder is a part of your email software system that enables you to send sequences of pre-written emails to everyone who joins your list at intervals set by you.
Of course, you can send what most email systems call a 'broadcast' email to all or part of your list at any time – to announce a gig or a new release.
And, clearly, you should do that whenever you have something to announce.
But an autoresponder allows you to welcome new fans with a series of emails over a few weeks as soon as they've joined your mailing list.
Why would you do this?
Well, you can use a few emails spaced out a few days apart to tell these new fans your story and to deepen your new relationship with them.
In marketing circles this is called a 'nurture' sequence and is proven many times over to be very effective in building a more engaged subscriber (in your case, a 'fan') who is more likely to stick with you for the long haul and more likely to spend money with you and on your music.
Usually this autoresponder sequence begins with a welcome email (sent after your new fan sign-up has confirmed that they want to join your email list (see the diagram below)). We cover how to set up this first welcome email in the next post in this series.
That first email in the sequence is then followed up by emails telling your story, ones that perhaps give away more free music, ones that tell these new fans where to find you on social media, and, of course, emails that ask them to buy something you have on sale and perhaps even offer a discount for doing so.
You'll see this kind of email sequence sometimes referred to as a 'funnel'.
As your new fans move down this funnel some will follow you on social media, some will tell their friends about you, some will buy some music or merch and, yes, some will unsubscribe.
Fear not, that's natural and it simply means that the majority who stick with you and stay on your fan mailing list have done so because they want to be there.
The Email Capture Process

That's how the software works and what you do with an autoresponder once the fan has joined your mailing list.
But how do you get them on to the mailing list when they visit your band website in the first place?
As we've just said above you can place sign-up forms on some social media (such as Facebook) and in the content, sidebar or footer of your band website.
However, for the purpose of maximising the number of people that will sign up when they visit your website and because you may not yet have built out your band website design, we're going to start by directing all your fans and traffic to a 'Squeeze Page'.
From there, once they sign up, there's a confirmation process that follows the steps in the diagram below.
What Is A Squeeze Page?

A Squeeze Page or 'landing page' is a page on your artist website whose sole purpose is to get people to join your fan mailing list.
You can see more detail on the elements of this page and the layouts that we have found to be most effective in the post where we walk through how to build your Squeeze Page.
The basic idea is that your Squeeze Page should offer something that a potential fan would want and it should make this offer in a clear 'Call to Action'.
Your 'Call to Action' is just a few words that spell out what you want people to do, so it could be something as simple as 'Enter your name and email to download our latest album for free', although a little more emotion and description would improve that no end.
The other most important factor in your Squeeze Page is that you remove all navigation, sidebars and footers so that the only possible exit option is for the visitor to either sign up or leave.
If you give a potential fan more than one option they might take it and you want to get them on to your mailing list.
That's your primary aim and the job of the Squeeze Page.
What Should You Offer Your Fans?

For musicians the offer has traditionally been a download of some of your music for free. This should be some of your best tracks, not weaker material, as it's in your best interests to grab the attention of potential new fans with your strongest material.
We like to encourage musicians to offer at least three or four tracks, but sometimes it can make sense to offer a whole album if you have enough catalogue. (Whether you should give away something for free that you can later also offer for sale in a different format such as CD is a whole other debate!)
It's worth mentioning that the growth of streaming and the steady decline in music fans using downloads as their main way of listening to music is having an effect on the success of offering free music downloads to drive email sign ups.
It's also true that a significant proportion of people who sign up to download your music may struggle to unzip a folder, get the music on to their phone and actually hear it. This will depend on the genre you're in and the demographic of your likely audience, but it's well worth bearing in mind.
That said, we still find it very effective but will often add in some other material such as lyric sheets, photos or whatever you think might appeal to fans in your genre. You can test it out and see what works.
Another way to deal with that issue is not to offer a downloadable package but to instead grant access to a 'backstage' or 'members' area where you might have some videos or other material that only fans who sign up can access.
Such an approach can also be used to give access to a set of tracks or a whole album.
We are seeing a lot of success offering a fan package of a number of tracks and exclusive other content (usually videos) which are hosted on a sequence of pages on the artist's website which are only accessible to people who join your mailing list.
Then, for a set number of days after they have signed up, you set up your autoresponder sequence to send out a link to a different page each day where your new fan can stream the next track from your package and have multiple options to download or add to a playlist on a streaming platform.
That way you leave the download choice up to your new fan but you ensure as much as possible that they can actually get to hear your music, which is, of course, one of your primary aims!
However, for the purpose of our training in this post and series we're going to show the technique of offering a download – offering a backstage area is, if anything, easier to set up!
We encourage you to start with a download offer and only rethink if it clearly isn't working for you.
Your aim is to follow this series of posts and end up with a band website and a system that is capturing fan emails and building your fan email list – growing your fanbase.
Take this long proven and direct approach of an exchange of an email address for a download as your starting point.
Learn this method and once you have this in place you can try something more sophisticated.
In practice, a download offer still works very well for most musicians and you may never need another option.
Nonetheless, whatever method you choose to use, it's also most effective if you can offer something that is 'exclusive', something that only subscribers can get.
That's where one of the arguments against giving away a whole album comes in.
We don't agree and have many clients who give away a whole album free at a slightly lower quality mp3 and still make healthy sales of the same album as a download from Apple Music, from their own site as CD or vinyl and as streams on Spotify and the other streaming services.
You should make your Squeeze Page the most obvious destination from as many places as possible on the internet.
That means making links from your profiles on all social media go to your Squeeze Page rather than the home page of your band website, regularly post the link to Twitter, Facebook and so on, have links to it from all your videos on YouTube, mention it at your gigs and consider running Facebook Ads that link to it as well.
Of course, some fans will find your Squeeze Page having seen you mentioned on a blog, in the press or on the radio.
The Thank You Page

Once a visitor has found your Squeeze Page and signed up, they will be taken to a Thank You Page.
This is a simple page that explains they will receive a 'confirmation' email from which they will need to click to confirm that they do want to be on your fan mailing list.
The simpler the better.
We encourage you to use this process which is called 'Double Optin' because it means that fans must enter a valid email address (or they won't get the confirmation email), avoids spamming issues and, above all, the extra small hurdle ensures that the people who end up on your list really want to be there!
Aweber does allow you to miss out this Thank You Page and use a 'Single Optin', in which case your new fan is sent straight to the 'Success Page', but we advise against it and show the Double Optin process in the video tutorial.
The Success Page

As soon as the fan submitted their email on the Squeeze Page, Aweber automatically sends out the confirmation email to them.
After checking their email and clicking on the link in the confirmation email, your new fan is then sent to a 'Success Page' where they will be able to download the exclusive package that they signed up for and the process is complete.
At this point they are also added to your email list in your Aweber account as an active subscriber.
If you set up a welcome email (as you should and as covered in this post, they will be sent this email immediately and your autoresponder will send whatever series of emails you have created at the intervals you've set.
Set Up Your Aweber Account
With the process clear, let's walk through setting up your Aweber account.
Click on the button below to go to Aweber and purchase your account
Why Choose Aweber?

There are a lot of options when it comes to choosing your email list software and we've written about why we recommend Aweber in this post.
To summarise, we think that Aweber is the best combination of cost, deliverability, functions and ease of use. It's a professional level email system that will grow with your band and will make it easier for you to build an engaged fanbase to sustain you in your career. And they also have excellent seven days a week 24 hour support.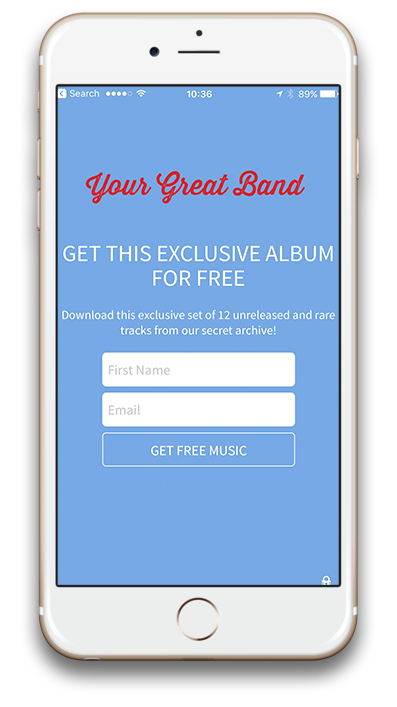 Another killer feature for gigging musicians are the three apps that enable you to run your fan mailing list on the move, but, especially the Atom app.
The Atom App is available for iOS and Android and puts a sign up form for your fan mailing list on your phone in your pocket, or, more likely, on the merch table at your gig.
This clever integration allows you to sign up fans to your mailing list wherever you are at any time and they will automatically receive your welcome email and package.
Even if you are unable to connect to the internet with your phone you can still use the app and upload new email addresses when you next connect.
This is a killer tool for musicians!
Purchase Your Aweber Account
On the Aweber home page, click the green button in the centre of the screen – 'Find Out Today – FREE 30 Day Trial'.
The next screen is basic account and payment details, so enter all your info and credit card details. Aweber do not offer a Paypal option.
I'd suggest creating the same username for your Aweber account as you've used for your Hostgator hosting account, just to keep things simple, and, as before, this is likely to be the name of your band.
The only other thing to note here is that you can pay monthly, quarterly or annually.
You're getting your first 30 days as a free trial and you're only entering your credit card for your first payment that will be processed at the end of that 30 days.
BUT, if you do choose quarterly or yearly the whole payment will be processed now, but it includes that first month free (so you still get that).
As you'd expect, if you choose to pay quarterly or annually there's a discount. As I said when talking about paying for your hosting, I completely appreciate that most musicians are never flush with cash, but, if you happen to be right now, do go for the cheapest rate and pay for quarterly or annually.
If you're reading this kind of post you are committed to giving your music and your career the best shot possible and that will take time and you need to be in it for the long haul.
Building an engaged relationship using your band website and email is the fix for your career, but it's not a quick fix. It does require time and effort.
Paying for Aweber quarterly makes the initial level monthly cost $16.33 and if you pay annually it's a fraction cheaper.
It probably makes the most sense to go for the quarterly option as the discount is almost as much as annual and you won't have to lay down too much at this stage – the initial payment will be $32.67 as opposed to $177.65 if you go annual.
Make that decision, click next to your choice and then hit the green button, 'Start My Free Trial'.
Set Up Your Main Aweber List
Aweber will take you to a success page with a green 'Sign In Now' button, that confirms the account and the payment schedule (monthly, quarterly or annually).
This page will also remind you that this is an ongoing subscription and you'll be charged until you cancel.
Helpfully, they also tell you that they're sending you the password to your new account in an email, so you'll need to first go back to your email for the confirmation email and password.
You're looking for the email titled '…, your Aweber account is ready!'.
Open that and copy your password (and save to that master text file we suggested that you put together during this set up process in the previous post).
Then go back to the success page, click 'Sign In Now' and you'll be taken to the normal login screen.
Enter your username and password and click 'Login To My Account'.
On your first login the next screen will offer you some training videos from Aweber. You don't need to watch these at the moment as the video in this post above walks you through all the steps that you need at this stage, but there's nothing wrong with watching these later.
For now, just click 'Let's Get Started'.
Set Up Your First Fan List
The first screen in the set up process is next, titled 'Set Up Your First List', and this is where you'll create your main fan email list – the one that you'll use for the majority of fans signing up on your website.
You can create as many lists as you like You might choose to have different ones for people who sign up at live shows and you'll definitely create a separate list (automatically using Aweber) for people who buy something from your band website.
For now we're creating your main fan list.
The form on this first screen will already have the first field ('Your Company Name') completed but will likely have taken your personal name from the account set up process.
The first thing to do here is to change that field to the name of your band or the name you use as an artist.
Under that, fill in the URL of your new band website that you launched when following along in the previous post.
The next details on this screen are the name and address details pulled from your billing information so you shouldn't need to make any changes here.
But, under the line, "What sender name and email address should appear with your emails?", you'll want to change what Aweber has automatically populated.
This section sets the name and email address that will be shown to everyone who signs up to your mailing list as the sender of the email – i.e. this is what they will see in their inbox.
Although it might be acceptable for very successful major label artists to send their emails and just use the band name as their sender address, that's not the right approach for you as you build engagement with your fanbase.
We encourage you to write your emails in the first person ('I', 'we') and as if you're writing to one person.
On top of that we strongly recommend that you set the sender address to your name, or if you're a band, one of the members real names, probably that of the frontman.
We usually put the name of the band in brackets.
This really helps build rapport with your new fans as they receive the first few emails from you as they feel they are dealing directly with you or the band, which – of course – they are!
We think it's pretentious and see-through to write in the third person and over hype your band when you're striving hard to get your first few thousand fans.
Keep it personal.
So here, Aweber will have used the details from your account set up again. Edit them to your first name or that of one of the band members (and put the name of the band in brackets).
You'll also want to put an email address in that you will check as these new fans WILL email you back and you'll need to respond.
There's a post and video here that shows you how to set up an email address on your Hostgator hosting using the domain you purchased.
So something like 'ian@yourgreatband.com' or even 'news@yourgreatband.com' is the kind of thing you'll want to use her (just remember to go and set up that email address later!).
Then click 'Next Step'.
Describe Your Aweber List

Next you'll need to add a title and description of this Aweber list.
As this first list will be your main list, you can just call it 'Your Great Band Fans' or 'Your Great Band Main List'. As we said above, it's a good idea to create additional lists later on to make it clear how a fan signed up, so naming your lists clearly is a sensible thing to start doing right from the off.
You might go as far as naming and using one list solely for people who sign up from your Squeeze Page (and naming it appropriately) and another list for people who sign up from other forms on your website. It's up to you but being detailed isn't going to do anything but good in the long run!
In the next box, you should put a short description of how a fan got on to this list – so in this case tell them that they signed up to a 'Your Great Band' mailing list when they downloaded whatever your package is.
This is shown to them in various places when they look for information on who's sending them emails and serves to remind them who you are and why you're emailing them. Make it clear and simple.
Remember to make any reference to your URL work as a clickable link by adding 'http://' to the domain.
Click 'Next Step'.
Set Up Your Aweber Confirmation Message
On this page you need to set up your 'Confirmation Message'.
As we show in the diagram for the email capture process above, every fan who joins your mailing list will go through a 'Double Optin' process.
This means that after they enter their email address they will be sent an email asking them to confirm that they want to be added to your fan email list.
This is recommended (as opposed to using a 'Single Optin' method which would send subscribers straight to a download page after they submitted their email) since it ensures that you don't get people using fake emails when they sign up and stops your sign up forms being spammed.
This Double Optin method therefore requires you to set up the automated confirmation message that Aweber will send out asking for people to confirm their email.
Aweber gives you the option of using one of their standard (and pre-approved) subject lines for this email, but they are generic and not tailored for musicians.
We prefer to customise both the subject line and the content of the email (although Aweber doesn't allow you to edit the central portion of the text in the email they do allow you to edit the intro and signature – and you should).
As you can see in the image below you should edit the subject line so that it specifically refers to the download or other exclusive package offer that you made and it should refer to your band in the subject line.
You can then also edit the top and bottom sections in the box headed 'Confirmation Message Body'.
Click edit on the right and write a few sentences about what you need your fan to do. See below what we habitually use for our clients, but, in general, explain that you need to ensure that they did sign up for your offer and you want to make sure you're not going to spam anyone.
In the signature box I like to amend it so that I say 'Thank You' followed by the name of the sender, then the name of the band and then a link back to the band website using 'http://' to make sure it's a clickable hyperlink.
Then click 'Approve Message & Create List'.
Your subject line will take a few hours to be approved. I have never had one rejected but I guess it could happen!
Customise Aweber List Options
As soon as you've clicked through form that page Aweber will take you to a page where you can create 'Sign Up Forms.
There's plenty of reasons why you'd want to use a sign up form created in this section of your Aweber account and list, and in future you may well need to.
For example, if you create a sign up form to go in the sidebar of your band website you might come to this section, create it and copy the code across to your band website.
Aweber is also bringing you to this section now as it's the natural next step after creating your first list and this process allows you to set the URL of the page you send your fans to at the end of the email capture process (i.e. when they have clicked the link in the confirmation message email) and get sent automatically to the 'Success Page'.
However, the process that you're going to learn for the actual building of your Squeeze Page in the next video and post does not require you to build a form in Aweber at all since you are going to connect your Squeeze Page directly to your Aweber account.
That means that all we need to do is check and customise a few settings in this list that you've set up and set the URL on your band website of your Success Page.
So, ignore the main area of the screen and click on 'List Options' in the top right of the black navigation bar and then 'List Settings' in the menu that drops down.
It's worth noting that you can switch between lists using the drop down in the window at the top of the screen that is labelled 'Current List'
When you have more than one list (main fan list, buyers, live etc) then you'll need to be aware which one you are working in as this little drop down controls everything in Aweber. The list that is the 'Current List' is the one in which you're making forms, creating emails to send out and managing subscribers.
On the 'List Options' screen you'll have three options on the left hand side:
Basic Settings
Personalize Your List
Confirmed Opt-In
Basic Settings
In the 'Basic Settings' screen you'll see some of the information that you just put in when setting up the list and which you can edit here if necessary.
At the foot of this screen, there is an additional option that allows you to edit or enter an email address where you can receive an email every time a new fan signs up to your fan email list.
I'd suggest that you do edit this to your personal email address, at least for the first few months, so that you can keep track of how many people are joining your fan email list.
And, of course, you should be excited by this hugely important career change so it's great to get multiple emails per day telling you your new fan email list is growing!
Click 'Update' and then 'edit' and enter your personal email address and then click 'Save Settings'.
Personalize Your List
Next click ' Personalize Your List on the left of the screen.
Most of the text here is what you entered in the previous steps but there's a few things of which to be aware.
This screen offers you a text box where you can set up a default signature for all your emails. I know that you had to put a signature in the confirmation message email but that was just for that one email.
Drop the same signature text with the clickable link to the website in the 'Email Signature' box here and it will be added automatically to all your future autoresponder and broadcast emails.
Below that you'll see two large buttons that allow you to set up Aweber to automatically 'Tweet your Broadcasts' and 'Post Broadcasts on Facebook'.
'Broadcasts' are the email messages that you write and send to your whole email list at any time (not the autoresponder sequence), for things such as announcing a tour or a new release.
You do not want these auto-posted to your social media.
As much as anything, you should be making dedicated posts to all of your social media for such announcements that link back to a news post on your band website (as should an email to your fan list announcing the same) and each should be designed specifically for the social media it's going on. In other words not only should you not be auto-posting but you should also not be posting the same text and image to all of Facebook, Twitter, Instagram and so on.
Each social media outpost should get its own version of any messaging optimised for that medium.
So, don't enable those!
Lower down, you'll also see a link where you can preview your 'Unsubscribe Page'.
This is a page, hosted on Aweber rather than your site, which is what your fans see when they click to unsubscribe from your fan email list.
It's plain and to the point and we generally use it.
You do have the option of creating one of your own and hosting it on your site. There's a school of thought that you should create something bespoke to try and and retain fans who are about to unsubscribe.
We can't be bothered.
The truth is that fans will unsubscribe. It's a fact of life. The key is to retain the superfans and the engaged fans. Don't sweat the ones who leave, they probably won't ever going to buy music, merch or tickets anyway and it's better for you to focus on those who will!
Remember to click 'Save Settings' and then go to the 'Confirmed Opt-In' section by clicking on the left of the screen.
Confirmed Opt-In
This is the most important of these three screens.
That's because this is where you must set the 'Success Page' of your email capture system – the page where your fans are sent when they click the link in the confirmation email and where they're going to be able to get the download of the exclusive package or access to a 'backstage' area you promised them.
So, it's important you get it right or you won't be getting off to a very good start in this new relationship with your fans!
This page looks a lot like the last screen of the previous section when you were setting up your confirmation message initially. And that's because it it basically the same.
You'll see your subject line (probably still awaiting approval) and the edited message.
However, now, under the text area of the message, you'll also find an area titled 'Success Page'.
This is where you enter the URL of a page that you'll build on your band website (after following the steps in the next post and video).
We often just create a page URL using a random string of characters (such as http://yourgreatband.com/asddhdasjdhfhgad) but alternatively you can make up some kind of URL that means something to you such as http://yourgreatband.com/ygbfreedlmembers. To me that means 'Your Great Band Free Download Members'.
There's three things to bear in mind about choosing this URL for a page you're going to build after going through the next post:
Make a note of the URL that you put in here. Add it to that ever growing text file where we told you to paste all the important login details! You're going to need it when you come to actually building that confirmation page which is where your new fans will get their download.
The reason that we don't just call the confirmation page http://yourgreatband.com/download is that we're paranoid! We don't want fans searching for the free download page without signing up to the email list first. We know that this might not be a large number of potential fans but it's a sensible precaution.
Making the URL of this Success Page mean something to you (/ygbfreedlmembers) will help you when you're looking for this download / access page in the WordPress dashboard of your site over the coming years. You might well end up with multiple success pages for different lists and it can get confusing very quickly unless you pick some sensible naming strategies.
Once you've pasted or typred in the URL of your Success Page make sure that you click 'Save Settings'.
And, that's it, you've set up a band email system that's going to pay dividends for years and years to come.
Build Your Squeeze Page
In the next post you'll learn exactly how to connect your new fan email list to your Squeeze Page and you'll also learn how to maximise the number of fans who join your mailing list.
If you haven't bought your Aweber account yet, now's the time to go and get that set up so that you're ready for the next stage.
Don't forget that you can also download the full checklist to keep on hand as you go through all these steps (which also covers the set up of the email list and squeeze page).
Download the accompanying checklist by clicking below:
​CLICK TO GET THE FREE COURSE CHECKLIST NOW
No results have been returned for your Query. Please edit the query for content to display.
Comments
comments
Powered by Facebook Comments