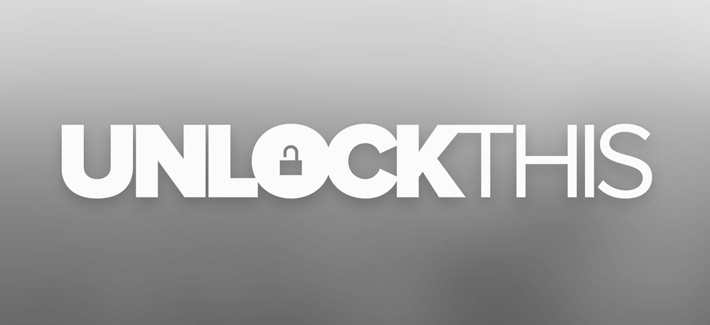 You used to be able to use a Facebook like gate to force someone (a potential fan) to 'like' your Facebook page in return for something free – a track download or similar.
But, in August 2014, Facebook decided to prevent the functionality that allowed the like gate and since November 5th it has been banned.
This was a very big issue for many music marketers who had been using it for a long time.
And, it seemed that it was gone forever.
But, it's back!
And this new tool that makes it work again works for Facebook but also on SoundCloud, Twitter, YouTube or for email. Very smart!

But, before we get ahead of oursleves let's look at what 'gating' is and why Facebook had an issue with it.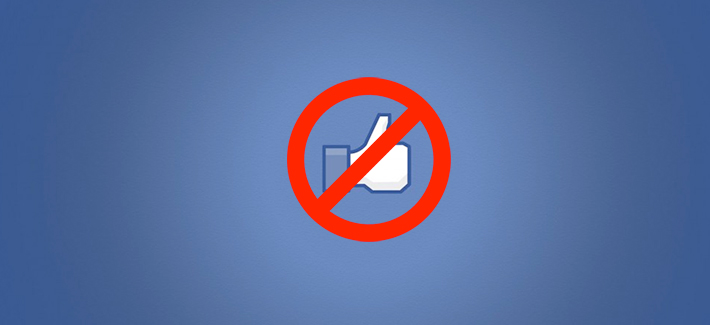 Like Gates Banned by Facebook – Why?
Facebook decided to remove the gating of any content on Facebook as they felt that it was a forced way of getting followers. That by requiring the user to 'like' your Page to get to the freebie you weren't gaining an authentic or 'real' fan.
And, I guess they had a point – to a degree.
Facebook wants everyone to like Pages because they want to hear from the Page as a genuine fan, not because of an artifical incentive.
Yet, Facebook was also, at the time and ongoing, driving down the organic reach of your Page and making you pay to reach all your 'authentic' fans.
Further, as we've seen from the data we get from our experience running campaigns for established artists, there is a difference between the fans of a 'brand' and the fans of a 'band'.
Whilst in the past a brand might have created exactly the 'artificial incentive' behind a like gate that Facebook wanted to prevent – coupons, promotion entry forms and items unconnected with the brand (i.e. bribes!) or similar – it's not quite like that for musicians.
Essentially, if someone wants to download your music, then they are most likely someone who does want to connect with you!
Facebook, of course, was never going to be able to differentiate between bands and brands so that argument held no sway – although I do feel it's completely valid.
And, as we see all the time, the level of engagement that musicians/artists get from their fans on Facebook is usually at a level that even the most loved brands just couldn't hope to achieve.
And, crucially, whilst it's absolutely true that just adding followers for the sake of it – as Facebook was stopping with that change – is pointless, music fans will gladly trade a social follow for music that they like.
From that point on, it only makes sense to build a social following that you engage with and that wants to hear from you.
So, getting the follow is the beginning. You are given a chance to reach a new fan over social media because you forced them to follow you to get free music, but what happens after that – the engagement – is where you create a superfan and a life long supporter.
What Happened to Existing Like Gates?
If a Facebook Page had a like gate in place (powered most likely by a Facebook App, or something like Woobox or ShortStack – who've now moved to 'action gating'), you would show a 'Like' button to people who hadn't liked your Page and then, when they had liked it, you'd show them the 'Fan Only' content – where you'd have a download button.
So, your potential fans and followers could only get to the download button by being forced to click to like the Page.
When the ban was introduced, Facebook switched all those tabs and apps to show the 'Fan Only' content by default.
You might still sometimes see a tab on a Page where the like button is shown and you are asked to like to get to a download, BUT, this will ALWAYS be accompanied by an option to 'skip' the like and go straight to the 'Fan Only' content.
In other words, Facebook killed that functionality dead!
Some people therefore decided to move to action gating and drive people to email signups for gating free stuff – a smart move no doubt (you know how we think that building your email list is the single smartest thing a musician can do!).
But others saw this as an opportunity!
UnlockTHIS – Like Gates are Back
When Facebook made the change, many musicians felt that they'd been short changed.
And one group decided to do something about it.

They wanted to be able to still 'like gate' their music on Facebook and build their Facebook fanbase in return for giving fans exactly what they wanted – free music and an ongoing relationship on the social media giant.
But, they also realised the power of the 'like gate' on other platforms – especially SoundCloud for which they had a special affinity since they were dance music cretors, but also for YouTube and Twitter and, of course, email.
UnlockTHIS was launched last month and works like a dream.
It gets around the Facebook ban on like gates by not being on Facebook!
So simple.
It allows you put any content you like behind a Facebook 'like gate' through their platform.
Because it's outside of Facebook it doesn't fall foul of the rules and very simply only allows your potential fan to access the freebie once they have clicked like and followed your Page – but, as I said, all done off the Facebook platform.
The tool creates a page where the 'unlocking' happens.
A feature that I really like is that you have some control over the unlock page so that you can add your own artwork and embed a Soundcloud Player or YouTube video.
That may be a player for the track or tracks that you're offering for download or it could be, for example, the lead track from a downloadable single package or album.
That creates the opportunity to make the UnlockTHIS page a destination URL that you can share. When potential fans visit to hear or watch, they are then presented with a low friction option to follow you.
A virtuous circle!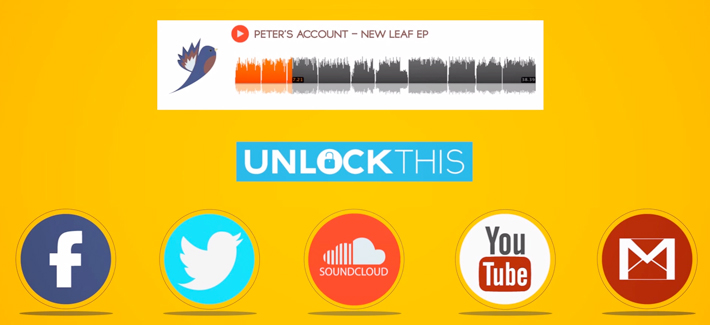 Content Gating SoundCloud, Twitter, YouTube & email
Driven to build this new tool by the change on Facebook, the folks at UnlockTHIS realised that what they really wanted was a tool that allowed them to 'like gate' across all the social platforms and email.
So, UnlockTHIS works in exactly the same way for SoundCloud, YouTube, Twitter and email.
You can place a music download behind a follow or like or subscribe on any of those platforms.
Although other content gating systems do exist for social media sites, I haven't seen one before that works across all of them.
Being able to set up a new campaign that requires a follow on Twitter or a subscription to your YouTube channel using the same platform is great.
The opportunities for spreading access to your material across all your social profiles are limited only by the amount of material you want to give away.
Double Likes and Partnerships
They've also thought about the effect that extensive collaborations in music (especially dance music) can have on building social followings.
So, UnlockTHIS allows you to put more than one like gate into the process to get at a download.
For example, you could offer a club track that has been remixed by a producer who is better known than you for free download. Using the tool you can require potential fans to take two actions – to 'like' both your Facebook Page and the remixer's or perhaps subscribe to the remixer on YouTube but follow you on SoundCloud – to get to the download.
That opens up an attractive proposition that you can make to people you work with.
If they'll remix your track you can offer to help them build their social following on the profile that needs the most boost!
Oh, and like I said above, building your email list should be a huge priority for your career.
The tool has that covered and can put the freebie behind an email capture as well as any of the social platforms.
Locking more than Downloads
With an eye to the future and the reality that downloads of music may soon be a thing of the past, this tool allows you to offer more than downloads of music.
Anything that can be downloaded can be offered. As people get more used to streaming and not wanting downloads all musicians will have to face the challenge of creating other content that fans will want.
This might be artwork or photos – at hi-res – that they can download and print or it might be some kind of written material.
Whatever it is, it can be put behind the UnlockTHIS gate.
And that includes a URL. Whether locking a stream behind a requirement to follow will work in the future is yet to be seen, but I can see that there may be 'fan only' areas of a website that you could 'lock off'.
I do know that the team behind it have more ideas in the works, including functionality that aims to convert those new fans into committed fans – and that intrigues me!
I'm not going to give you a walk through of the process of setting up an UnlockTHIS gate.
It's intuitive and simple enough.
My suggestion is that you give it a go and think how you can use it to build your fanbase – across all those platforms and your email list.
Comments
comments
Powered by Facebook Comments