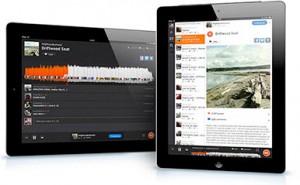 There are a core set of sites that every aspiring musician should be using to help build a fanbase and spread the word about their music.
Facebook, YouTube, Twitter and Instagram are obvious choices, but many musicians forget about the one social site that is driven by music alone – Soundcloud.
It's true that music is a core part of YouTube and the place that many people turn to find music, whether for discovery or simply to use as a streaming platform – indeed YouTube is by far the biggest streaming music platform on the internet. Much bigger than Rdio and Spotify.
But if you're looking for the website that is the best place for music discovery and where you'll find a community of music lovers obsessed with finding new music, then Soundcloud is the place to go.
{ 2 comments }